Another study has confirmed that if a person wants to have beneficial gut microbes that are associated with lower rates of chronic inflammation and many health conditions and diseases, then you need to eat a diet that nourishes the beneficial gut microbes. And once again, research finds that it is a plant based diet that does this.
A plant based diet is one rich in fruits, vegetables, whole grains, legumes (beans), nuts, and seeds, thus containing lots of fiber - and these nourish beneficial gut microbes. In this group is also oily fish. This is an anti-inflammatory diet. It feeds short-chain fatty acid (SCFA)-producing microbes (this is good). A great example of plant foods also containing bacteria, as well as nutrients and fiber: one raw apple has about 10 million bacteria!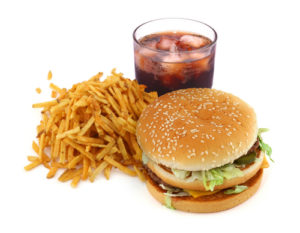 On the other hand, a diet rich in processed foods and lots of meat (an animal derived diet), is associated with microbes linked to intestinal inflammation - thus an inflammatory diet . Also includes foods with high amounts of sugar and alcohol. This type of diet is low fiber and considered a Western diet.
To arrive at these conclusions, researchers in the Netherlands looked at the gut microbiome of 1425 persons in 4 groups - those with Crohn's disease, ulcerative colitis, irritable bowel syndrome, and the general healthy population. They found 38 associations between dietary patterns and microbial clusters, as well as 61 individual foods and nutrients with 61 bacterial species. They found that specific foods and nutrients were associated with species known to give mucosal protection and have anti-inflammatory effects.
These beneficial bacterial species are NOT found in probiotics or supplements. You must eat the foods on a daily basis. [Another study with similar findings.] Studies show changes will occur very quickly - within two weeks, both in microbes and effects on the intestines.  Think of the saying: You are what you eat. Yes!
From Medical Xpress: Diet rich in animal foods, alcohol and sugar linked to 'inflammatory' gut microbiome
A high dietary intake of animal products, processed foods, alcohol and sugar is linked to a gut microbiome that encourages inflammation, finds research published online in the journal Gut.  ...continue reading "What You Eat Determines The Type Of Bacteria Living In Your Gut"