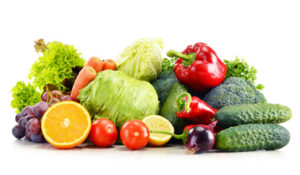 Those who enjoy a little "potty humor" will like the results of a recent nutrition study comparing the results of a Western style diet (high fat, low fiber) to a high fiber Mediterranean diet. The high fiber diet resulted in much larger, softer stools, and an increase in stomach noises and farting. (Yes, they weighed their stools and counted daily farts!) There was no change in the number of stools per day.
In the study 18 healthy men followed both types of diets for two week periods (first one diet, then a break, and then the other diet). The high fiber diet (54.2 grams fiber per day) resulted in numerous beneficial changes, especially nurturing healthy gut bacteria and metabolic improvements. The low fiber Western diet only had an intake of 4.7 g fiber per day. Interestingly, all participants were told to avoid fermented dairy products (e.g. yogurts) during the study.
The high fiber diet resulted in greater numbers of beneficial bacteria in the gut without any major changes in the core microbiome (microbial community). There were also numerous gut microbial metabolic improvements while on this diet. Interestingly, men who already had a more diverse gut microbiota (which is a sign of health) and routinely already ate more fiber rich plants foods, had less farting and stomach noises during the study.
Think of it this way: your diet is what feeds and nurtures the microbes living in your gut. Some microbes are associated with chronic diseases, and some with health - so you want to nurture the health-associated bacteria by eating a diet rich in plant foods (Mediterranean style diet).
By the way, a recent study found that eating fermented foods is a quick way to increase gut microbial diversity and health. It's beneficial to add some fermented foods (e.g. yogurt, kimchi, sauerkraut, kefir) to your regular diet.
From New Scientist: Men fart more when eating a plant-based diet due to good gut bacteria
Plant-based diets cause men to fart more and have larger stools, researchers have found – but that seems to be a good thing, because it means these foods are promoting healthy gut bacteria.  ...continue reading "Farts and Good Gut Health"