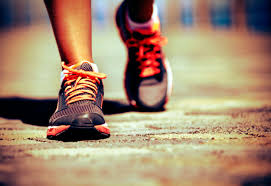 Atrial fibrillation (a quivering or irregular heartbeat) can be very frightening for the person experiencing it. This heart arrhythmia disorder can be treated with medicines or surgical ablation, but new research suggests that it also can be improved after 6 months of exercise - about 3.5 hours per week.
Researchers at the University of Adelaide randomly assigned 120 patients with atrial fibrillation (AF) to either receive an exercise regimen for 6 months or no exercise regimen. All persons received "usual medical care". [Note: it is not clear what usual medical care involved.] After 6 months and at 12 months, the exercise group had a lower incidence of recurrent AF  and less severe AF symptoms. The exercise helped maintain normal heart rhythm.
The exercise group had supervised exercise once per week for 3 weeks, and then every other week for 3 months, as well as an exercise plan to follow at home. The goal was to increase aerobic exercise up to 3.5 hours per week. Supervised exercise session were higher intensity to increase cardiorespiratory fitness, and home based  exercise was of moderate intensity (e.g. walking, indoor cycling, swimming).
Bottom line: Exercising up to 3.5 hours per week might improve and control AF so that medications or surgery are not necessary.
From ScienceDaily: Exercise maintains normal heart rhythm in patients with atrial fibrillation
A six-month exercise programme helps maintain normal heart rhythm and reduces the severity of symptoms in patients with atrial fibrillation, according to late breaking research presented at ESC Congress 2021.1  ...continue reading "Atrial Fibrillation Can Be Improved With Exercise"