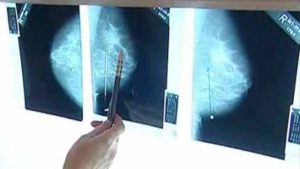 There has been a lot of discussion in recent years about whether mammogram screening actually cuts the risk of death, with some studies finding that it does and others that it doesn't (here and here).  It's tricky to figure out because during the last few decades in which more women were screened, there have also been major improvements in breast cancer treatments.
A recent large Danish-Norwegian study came to the conclusion that breast cancer screening (mammograms) does not reduce mortality. Instead, the researchers found that there have been similar reductions in deaths from breast cancer in all women - from both unscreened women and those receiving mammograms (screening) - and this is due to better cancer treatments. From Science Daily:
Breast cancer screening does not reduce mortality
Fewer and fewer women die from breast cancer in recent years but, surprisingly, the decline is just as large in the age groups that are not screened. The decline is therefore due to better treatment and not screening for breast cancer.  ...continue reading "Study Finds Mammogram Screening Doesn't Reduce Breast Cancer Deaths"