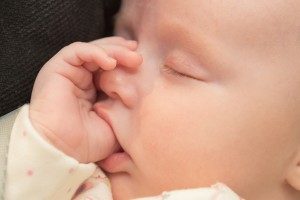 Thankfully this rarely occurs, but so horrifying that it does. A study found that occasionally babies can contract cancer from their mothers during childbirth.
The Japanese study described the (rare) transmission of cervical cancer to two babies during birth, when the babies must have inhaled tumor cells as they were being born. Both later developed lung cancers, which were exact genetic matches to their mothers' cancers.
This is how rare it is: Approximately one in 1000 live births involves a mother who has cancer, but transmission of the cancer is estimated to only occur to one infant for every 500,000 mothers with cancer. 1 in 500,000. Most other cases have involved leukemia, lymphoma, and melanoma cancer cells crossing the placenta during pregnancy (transplacental transmission).
From Medical Xpress: Women may transmit cancer to infants in childbirth, reports suggest
In extremely rare instances, newborns can contract cancer from their pregnant moms during delivery, a new case report suggests.  ...continue reading "Rare Cases of Babies Contracting Cancer From the Mother During Birth"