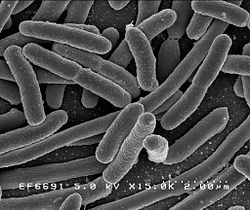 Does it matter what blood type (A, O, B, AB) we have when dealing with microbes that can make us sick? Apparently it does for certain illnesses.
New research suggests that people with blood type O  and B can handle a strain of Escherichia coli referred to as "enterotoxigenic E. coli" better than those with blood type A. This bacteria is associated with traveler's diarrhea and diarrhea in developing countries, with especially severe effects among young children. It turns out that those with blood type A get sicker (more severe diarrhea) and sooner, than those with blood type O and B. Antibiotics successfully treats the diarrhea.
By the way, other research also finds a link with certain diseases and blood types (e.g. diabetes, malaria, and cholera). From Medical Xpress:
Blood type affects severity of diarrhea caused by E. coli
A new study shows that a kind of E. coli most associated with "travelers' diarrhea" and children in underdeveloped areas of the world causes more severe disease in people with blood type A.
The bacteria release a protein that latches onto intestinal cells in people with blood type A, but not blood type O or B, according to a study led by researchers at Washington University School of Medicine in St. Louis. A vaccine targeting that protein could potentially protect people with type A blood against the deadliest effects of enterotoxigenic E. coli (Escherichia coli) infection.  ...continue reading "Blood Type Affects Severity of Illness From E. Coli Strain"