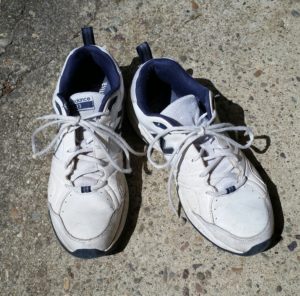 Excellent for those who want to exercise more, but don't want something complex. This is so simple that there is NO excuse for not doing this: walk fast for 3 minutes, then 3 minutes of strolling, and repeat 5 times (total=30 minutes).
From NY Times: Walk Hard. Walk Easy. Repeat.
Intense, interval-style workouts — brief bouts of very hard exercise broken up by periods of recovery — have been shown to improve the health and fitness of people who exert themselves for only a few minutes a week. Such efficiency is alluring, and has helped this kind of conditioning attract widespread media attention in recent years (including in this column). But high-intensity interval training programs aren't for everyone....That doubt is what makes some news out of Japan about a much-less-punishing form of interval training so welcome.
A decade ago, scientists led by Dr. Hiroshi Nose at the Shinshu University Graduate School of Medicine in Matsumoto, Japan, started developing walking programs. They knew that walking was physically the easiest (and also the most practical) exercise for those in middle age and older, but the researchers suspected that people might need to push themselves to achieve the greatest health benefits. So they created a regimen consisting of three minutes of fast walking at a pace that Nose says approximates a 6 or 7 on a scale of exertion from 1 to 10. Each "somewhat-hard" three-minute spell was followed by three minutes of gentle strolling.
In their original experiment, the results of which were published in 2007, walkers between the ages of 44 and 78 completed five sets of intervals, for a total of 30 minutes of walking at least three times a week. A separate group of older volunteers walked at a continuous, moderate pace, equivalent to about a 4 on the same exertion scale. After five months, the fitness and health of the older, moderate group had barely improved. The interval walkers, however, significantly improved aerobic fitness, leg strength and blood-pressure readings.
In their latest study, which came out in December in the Journal of Applied Physiology, Nose and his colleagues report that most of the participants stayed with the walking program long after their original five-month commitment ended. Two years later, almost 70 percent of the walkers with whom the researchers remained in contact were still following their regimen at least three times a week and had retained or improved their health gains. Those who quit often cited "family, health and job issues," says Dr. Shizue Masuki, the new study's lead author, but they rarely complained about the complexity or difficulty of the training.
So those who have considered high-intensity interval training but have been apprehensive about its demands should go for a walk. "Perform the training for 10 minutes in the morning, 10 minutes in the afternoon and 10 minutes in the evening," Masuki suggests. Three days of exercise per week is best, but if that's too challenging, she says, "do it on the weekend" and cram the workouts into two days. Doing so, Masuki adds, "can have a profound effect on physiological regulation."