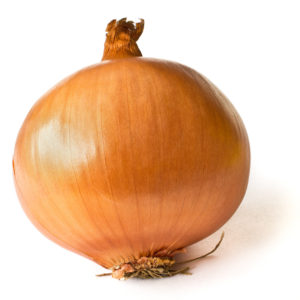 Good news for women who really like to eat onions and garlic! A study conducted in Puerto Rico found that women who more frequently consumed garlic and onions, especially  "sofrito", had a lower risk of breast cancer. Both onions and garlic are an important part of the Puerto Rican diet, and sofrito is a raw onion and garlic based condiment or puree that is the base for many Puerto Rican dishes.
This study found that as consumption of garlic and onions increased, there was a decrease in the risk of breast cancer, which was true for women both before menopause or after menopause. There was evidence of a dose-response (the more eaten, the lower the risk). This association was especially strong for women consuming sofrito more than once a day - they had a 67% decrease in breast cancer risk compared to those who never ate sofrito.
The researchers point out that studies show that the more one eats of onions and garlic, the lower the risk of certain cancers, such as the lung, prostate, colon, and stomach. However, the evidence for whether it has a protective effect on breast cancer has been mixed, but with most studies finding a protective effect with frequent consumption of onions and garlic, especially raw onions and garlic. One study in Mexico found a 70% lower risk of breast cancer in those eating one slice of onion per day, compared to those eating less than one slice. The researchers also mentioned that studies find that cooking onions and garlic reduces their anticancer activity.
From Science Daily: Onion and garlic consumption may reduce breast cancer risk
Onions and garlic are key ingredients in sofrito, a condiment that's a staple of Puerto Rican cuisine. They may also be a recipe for reducing the risk of breast cancer. ...continue reading "Onions, Garlic, and Lower Risk of Breast Cancer"