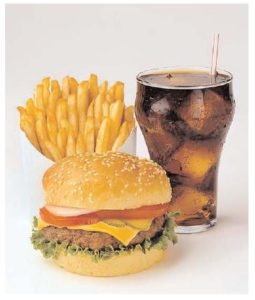 Americans are eating so much ultra-processed food that it's now more than 50% of their daily calories. And why shouldn't they eat these foods? They're easy to get (fast foods, prepackaged foods, take out foods), they taste good, and they're great for people pressed for time. That's why they're called "convenience foods" and include fast foods, prepackaged foods, many frozen meals, take out foods, soda, packaged snacks, and many cakes, candies, and cookies.
But... there's a dark side to highly processed food. It is linked to all sorts of harmful health effects (cancer, Alzheimer's disease, etc), to chronic inflammation, and now to worse heart health. Even our beneficial gut microbes don't like highly processed foods. Instead, they like real whole foods, especially plant based foods high in fiber, such as whole grains, fruits, vegetables, nuts, seeds, legumes.
There are all sorts of ingredients in ultra-processed foods that are laboratory concoctions, from artificial and natural flavors, colors, additives, preservatives, etc. Read the ingredient lists!
The results of a new study by researchers at the CDC (Centers for Disease Control and Prevention) found that  for every 5% increase in calories from ultra-processed foods a person ate, there was a corresponding decrease in overall cardiovascular (heart) health.
From Science Daily: Too much ultra-processed food linked to lower heart health  ...continue reading "Highly Processed Foods and Heart Health"