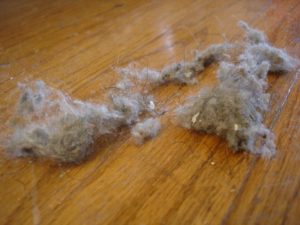 Ten chemicals suspected or known to harm human health are present in more than 90% of U.S. household dust samples, according to a new study. The research adds to a growing body of evidence showing the dangers posed by exposure to chemicals we are exposed to on a daily basis. The chemicals come from a variety of household goods, including toys, cosmetics, personal care products, furniture, electronics, nonstick cookware, food packaging, floor coverings, some clothing (e.g., stain resistant), building materials, and cleaning products. How do the chemicals get into the dust? The chemicals can leach, migrate, abrade, or off-gas from the products, which winds up in the dust and  results in human exposure. (That's right:  vacuum a lot and wash your hands a lot, and try to avoid or cut  back use of products with these chemicals,)
What was found in the dust? The main chemicals were: phthalates — a group of chemicals that includes DEP, DEHP, DNBP and DIBP (these were present in the highest concentrations),  highly fluorinated chemicals (HFCs), flame retardants (both old and newer replacement ones), synthetic fragrances, and phenols. These chemicals are known to have various adverse health effects, including endocrine disruption, cancer, neurological, immune, and developmental effects. (See posts on endocrine disruptors and flame retardants) Studies typically study one chemical at a time, but household dust contains MIXTURES of these chemicals with effects unknown. How does it get into us? Inhalation, ingestion, and through skin contact. And while the levels we are exposed to may be low, research is showing that even low level exposure can have adverse health effects. From Medical Xpress:
Potentially harmful chemicals widespread in household dust
Household dust exposes people to a wide range of toxic chemicals from everyday products, according to a study led by researchers at Milken Institute School of Public Health at the George Washington University. The multi-institutional team conducted a first-of-a-kind meta-analysis, compiling data from dust samples collected throughout the United States to identify the top ten toxic chemicals commonly found in dust. They found that DEHP, a chemical belonging to a hazardous class called phthalates, was number one on that list. In addition, the researchers found that phthalates overall were found at the highest levels in dust followed by phenols and flame retardant chemicals....."The findings suggest that people, and especially children, are exposed on a daily basis to multiple chemicals in dust that are linked to serious health problems." ...continue reading "What's In Your Household Dust?"