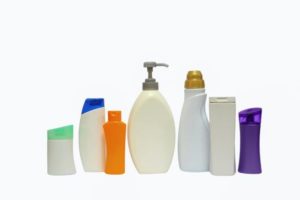 For years there has been much concern over chemicals that act as endocrine disruptors (hormone disruptors) in the personal products that we use on a daily basis.  One big concern is whether these chemicals, such as parabens and phthalates, are causing breast cancer (as well as other harmful health effects). Because whatever you use on your skin, will get into you.
A recent study looking at these harmful chemicals found that women switching to paraben and phthalate free cosmetic products had a quick effect (within 28 days) on lowering their levels in the body (blood, urine, breast tissue cells). Which then resulted in lowering breast cancer markers to a "normal" expression. Wowza!
What you can do: Check the ingredients in the lotions you use. Are there parabens and phthalates in it? Spend your money on safe lotions and other personal products. Go to EWG (ewg.org) or mamavation.com for lists of safe products. Also: Ways to lower your exposure to harmful chemicals
For example, the commonly used lotion Lubriderm to this day has several types of parabens (e.g., methylparaben) in it. No, no, no... Why are they still in the lotion? Note that our government is not protecting us from these harmful chemicals. (Instead Big Business and big money is more important.)
From Environmental Health News: Get phthalates, parabens out of the bathroom drawer to reduce breast cancer risk: Study
Switching to phthalate and paraben-free personal care products could reduce the risk of developing breast cancer, according to new research. ...continue reading "Personal Care Products and Breast Cancer Risk"