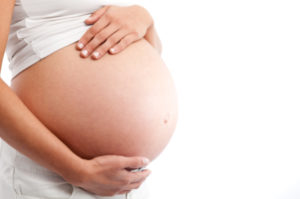 The studies are adding up that phthalates are harmful to humans of all ages, but uniquely so to the developing fetus. Boys exposed to high levels of phthalates before birth may have slightly altered genitals, specifically a shortened anogenital distance (the length between the anus and the genitals). This is concerning because in adulthood, this is associated with reduced semen quality and lower fertility in males - and considered a sign of incomplete masculinization. So try to avoid or lower exposure to phthalates during pregnancy (see posts on ENDOCRINE DISRUPTORS). From Environmental Health Perspectives:
Plastics chemical linked to changes in baby boys' genitals
Boys exposed in the womb to high levels of a chemical found in vinyl products are born with slightly altered genital development, according to research published today.The study of nearly 200 Swedish babies is the first to link the chemical di-isononyl phthalate (DiNP) to changes in the development of the human male reproductive tract.
Previous studies of baby boys in three countries found that a similar plastics chemical, DEHP, was associated with the same type of changes in their genitalia. Less is known about the reproductive risks of DiNP, a chemical which scientists say may be replacing DEHP in many products such as vinyl toys, flooring and packaging. In mice, high levels block testosterone and alter testicular development.
"Our data suggest that this substitute phthalate may not be safer than the chemical it is replacing," wrote the researchers, led by Carl-Gustaf Bornehag at Sweden's Karlstad University, in the journal Environmental Health Perspectives. Levels of DiNP in U.S. adults and children have more than doubled in the past decade.
The researchers measured metabolites of five phthalates in the urine of pregnant women during the first trimester. Development of male reproductive organs begins during that period, said senior study author Shanna Swan, a professor of reproductive science at Mount Sinai Hospital in New York. The researchers then measured the anogenital distance – the length between the anus and the genitals – when the boys were on average 21 months old. Boys who had been exposed to the highest levels of DiNP in the womb averaged a distance that was slightly shorter – about seven-hundredths of an inch – than the boys with the lowest exposures. "These were really subtle changes," Swan said.
Considered a sign of incomplete masculinization, shortened anogenital distance in men has been associated with abnormal testicular development and reduced semen quality and fertility. In men, this measurement is typically 50 to 100 percent longer than in women. But it's unknown whether a slightly shorter distance in infants corresponds with any fertility problems later in life.
For other phthalates, the study found shorter anogenital distance with higher concentrations, but the findings were not statistically significant, meaning they may have been due to chance. The Swedish women in the new study had phthalate levels similar to U.S. women in Swan's previous studies. Those studies, published in 2005 and 2008, linked several phthalates to shorter anogenital distance.
The scientists said exposures to the chemical can come from food or through skin contact with home furnishings or child-care articles. In 2008, the United States temporarily banned use of DiNP and two other phthalate plasticizers in toys and other children's products.... While it's nearly impossible to eliminate exposure to phthalates, Swan suggested that pregnant women may be able to reduce their exposures by incorporating unprocessed, unpackaged foods into the diet and by avoiding heating or storing foods in plastic containers.