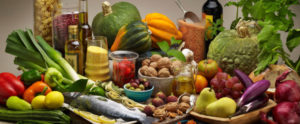 Once again a study finds health benefits from consuming a Mediterranean style diet - a diet rich in fruits , vegetables, whole grains, nuts, seeds, legumes (beans), olive oil, and fish. The US Women's Health Study involved almost 26,000 women who were healthy at the start of the study and were followed for up to 12 years. The researchers found that a higher consumption of a Mediterranean style diet was associated with about a 28% lower risk in cardiovascular disease events (heart attack, stroke, coronary arterial revascularization, cardiovascular death). Based on what they generally ate, they were classified as having a low, middle, or upper intake of a Mediterranean style diet.
From Medical Xpress: Researchers explore what's behind Mediterranean diet and lower cardiovascular risk
A new study by investigators from Brigham and Women's Hospital, Harvard Medical School, and the Harvard T.H. Chan School of Public Health offers insights from a cohort study of women in the U.S. who reported consuming a Mediterranean-type diet. Researchers found about a 25 percent reduction in the risk of cardiovascular disease among study participants who consumed a diet rich in plants and olive oil and low in meats and sweets. The team also explored why and how a Mediterranean diet might mitigate risk of heart disease and stroke by examining a panel of 40 biomarkers, representing new and established biological contributors to heart disease.