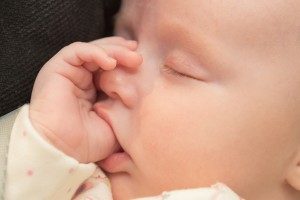 After my January 9, 2015 post I was asked more about the microbial differences in babies who had been born by cesarean vs vaginal deliveries. What could be done about this? Should this be of concern when C-section rates in some places are approaching 50% of all births?
Well, some researchers are concerned, including Dr. Dominguez-Bello, who is doing ground-breaking research in this area. She is doing a long-term study in which babies born by cesarean section are immediately swabbed with a gauze cloth laced with the mother's vaginal fluids and resident microbes. Several (but not all) articles that I looked at said that the gauze is a "saline-soaked gauze".
Summary of the method:1) Incubate gauze in mother's vagina for 1 hour 2) Extract gauze before C-section  3) Expose newborn to the vaginal gauze (Mouth first, then face, then rest of body). If for some medical reason they don't (and there is a C-section), then this is a restoring intervention.
Note that Dr. Dominguez-Bello always first checks to make sure the mother is HIV-negative and strep-B negative, and showing no signs of a STD. The basic premise is that babies should have crossed the mother's birth canal to be "seeded" with the mother's microbes, but if for some medical reason they don't (and there is a C-section), then this is a (somewhat) restoring intervention.
From Feb. 2014 New York Academy of Sciences: Hats Off to Bacteria!
Why are bacteria in the body? What do we, and the bacteria, gain from this arrangement? And who's in charge? "There is a dialogue," Dominguez-Bello said, "sometimes a fight, sometimes a good dialogue. We have evolved with them. The first form of life on Earth was bacteria. Whatever came after had to deal with bacteria, cope with bacteria, associate with bacteria ...  ...continue reading "Can Missing Birth Canal Bacteria Be Restored to Cesarean Birth Babies?"