Some people get a large red rash on their arm after the first Moderna vaccine dose, and it is being called "COVID arm". It generally appears a few days after the shot, generally occurs in the arm that received the shot, and it goes away in less than a week. It occurs rarely - in under 1% of the people getting the first dose, and even less frequently (0.2%) after the second dose.
It is considered harmless - a hypersensitivity rash. Someone getting the rash after the first dose should get the second dose. In other words - everything is OK, and you can definitely proceed with the second vaccine shot.
You can take antihistamines if needed (if the rash is itchy).
The New England Journal of Medicine recently published a letter and photos about this rash - Delayed Large Local Reactions to mRNA-1273 Vaccine against SARS-CoV-2. Some patient photos of the rash: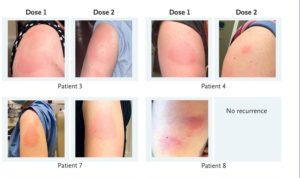 From the CDC page: If you get a rash where you got the shot
CDC has learned of reports that some people have experienced a red, itchy, swollen, or painful rash where they got the shot. These rashes can start a few days to more than a week after the first shot and are sometimes quite large. These rashes are also known as "COVID arm." If you experience "COVID arm" after getting the first shot, you should still get the second shot at the recommended interval if the vaccine you got needs a second shot. Tell your vaccination provider that you experienced a rash or "COVID arm" after the first shot. Your vaccination provider may recommend that you get the second shot in the opposite arm.
If the rash is itchy, you can take an antihistamine. If it is painful, you can take a pain medication like acetaminophen or a non-steroidal anti-inflammatory drug (NSAID).