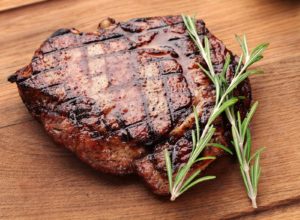 The Paleo diet has been around for years and yet it continues to be controversial. The debate is whether following the Paleo diet long-term has health benefits or not? Supporters of the Paleo (Paleolothic) diet say it promotes gut health and is good for gut microbes, but recent research findings are a strike against this claim. The Paleo diet is based on the hypothesis that humans have not adapted to eating products of agricultural farming such as grains, dairy products, or legumes (beans), as well as all processed foods, so they should be avoided. Instead it stresses eating meat, fish, eggs, nuts, (some) fruits, and vegetables.
So what were the new research findings?  Australian researchers found that people who had been on a Paleo diet for more than a year ate lower amounts of resistant starch, and so had a different bacteria profile in the gut - with lower levels of some beneficial species. They also had high levels of a biomarker in the blood (trimethylamine-n-oxide or TMAO) that is linked to heart disease.
The problem seems to be the lower intake of resistant starch - which is a carbohydrate that resists digestion in the small intestine and ferments in the large intestine. As the fibers ferment they act as a prebiotic and feed the beneficial bacteria in the gut. More than one type of resistant starch can be present in a single food. And what foods contain resistant starches? Precisely some foods avoided in the Paleo diet: grains, rice, beans, peas, lentils, plantains, and green bananas. A number of studies find health benefits (e.g. gut health) from eating foods with resistant starches.
From Medical Xpress: Heart disease biomarker linked to paleo diet
People who follow the paleo diet have twice the amount of a key blood biomarker linked closely to heart disease, the world's first major study examining the impact of the diet on gut bacteria has found.  ...continue reading "Problems With Paleo Diet?"