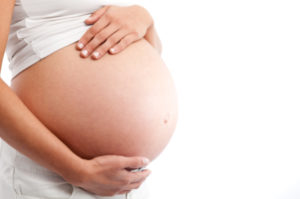 Pregnant women now have another reason to try to limit exposure to flame retardants while pregnant - having higher levels of flame retardants in their blood during pregnancy is associated with an increased risk of preterm birth.
Nearly 100% of North American women have flame retardants  such as poly-brominated ethers (PBDEs) in their bodies, which can be measured in their blood. Unfortunately they are  hormone (endocrine ) disruptors, and they are also very similar in structure to thyroid hormones. Flame retardants have a number of harmful health effects during pregnancy.
A team of NY and California researchers checked the level of one type of PBDE in the blood of 3,529 pregnant women in the first trimester of pregnancy. They found that those with the highest levels (above 4 nanograms per milliliter of blood) had a higher incidence of preterm birth. But if they had levels below that there wasn't an increased risk of preterm birth.
Flame retardants are all around us (e.g. synthetic carpeting, upholstered furniture), but they migrate out of the product, and so get into us. Yes, they are in our household dust. There are ways to minimize exposures - for example, check carpeting, sofa, and upholstered furniture labels, and only buy those products free of flame retardants. See tips on how to lower your exposure to harmful chemicals.
From Medical Xpress: Exposure to flame retardants early in pregnancy linked to premature birth
Expectant women are more likely to give birth early if they have high blood levels of a chemical used in flame retardants compared with those who have limited exposure, a new study finds. ...continue reading "High Flame Retardant Levels During Pregnancy Linked to Preterm Birth"