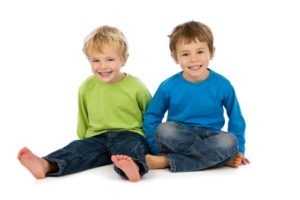 Many of us have concerns over the fact that people are constantly exposed to endocrine disruptors (chemicals that disrupt hormonal systems) in many common household and personal products. Even the vinyl flooring found in many homes  contains phthalates, which are endocrine disrupting chemicals.
In the past year several studies have looked at vinyl flooring in homes and whether the chemicals in the flooring outgas into the air and then get into people living in the homes. The answer is YES - the chemicals in vinyl flooring do get into people living there, and they can be measured in urine (in the breakdown products of phthalates called metabolites).
Since research shows that endocrine disrupting chemicals have health effects, then the question is: Do chronic low levels do anything to people? Especially worrisome is, are they having an effect on the developing fetus when pregnant women are exposed to them and they get into the body?
The following 2 studies looked at flooring, but keep in mind that we are exposed to phthalates in many, many products - e.g., plastic shower curtains, plastic food containers, some personal care products, household products. The problem is that the pthalates migrate out of the plastic products - they don't stay in the product. In the case of vinyl flooring - one can say that there are phthalate emissions from the flooring! And of course it gets into household dust.
Numerous studies found that phthalates (the phthalate metabolites) are routinely found in people of all ages - throughout the world. It can be measured in our blood (serum) and in our urine. Studies find them in breastmilk and also in amniotic fluid. Research finds associations associations between exposure to several phthalates and various effects on human health, including reproductive effects.
The following are two complementary studies. Study 1 looked at vinyl flooring (called PVC flooring in the article) in homes (in the kitchen and bedrooms), and found that phthalates get into pregnant women, and can be measured in the urine. Study 2 (from Duke University), found that chemicals children are exposed to in the home from vinyl flooring and the sofa (flame-retardants) can be measured in their blood and urine. The researchers took all sorts of samples from homes and children over a 3 year period and found evidence in the children of exposure to phthalates, organophosphate esters, brominated flame retardants, parabens, phenols, antibacterial agents and perfluoroalkyl and polyfluoroalkyl substances (PFAS).
So we have proof that these chemicals are getting into us. We can't avoid them totally, but can lower our exposure levels - look for upholstered furniture without flame retardants (read the label!), and don't install vinyl flooring (wood and tile floors are OK).  ...continue reading "What's Getting Into You From Vinyl Flooring?"