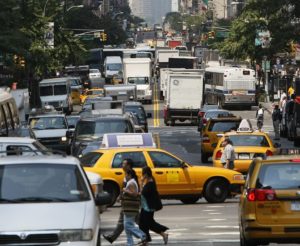 Researchers measured chemicals in the air in 2 cities (Boulder, CO and Toronto, Canada) and found equally high levels of 2 chemicals in the air during morning commute times - benzene (from vehicle exhaust) and a type of siloxane (from personal care products). What? This study's results make a strong case for reading ingredient lists of personal care products (especially lotions, shampoos, deodorants, antiperspirants) - and avoiding those containing siloxane (which emits volatile organic compounds or VOCs!).
If you consider siloxane and fragrances (which can contain a long, long list of chemicals, including VOCs) as significant sources of air pollution, you might not want to breathe it in or put in on your skin to be absorbed.  Bottom line: Read labels! From Science Daily:
Personal care products contribute to a pollution 'rush hour'
When people are out and about, they leave plumes of chemicals behind them -from both car tailpipes and the products they put on their skin and hair. In fact, emissions of siloxane, a common ingredient in shampoos, lotions, and deodorants, are comparable in magnitude to the emissions of major components of vehicle exhaust, such as benzene, from rush-hour traffic in Boulder, Colorado, according to a new CIRES and NOAA study.  ...continue reading "Personal Care Products and Air Pollution"