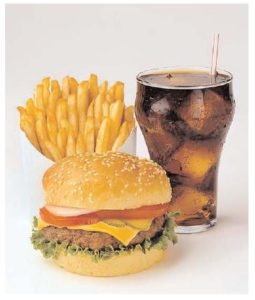 The results of a large study adds more evidence to what we have long suspected: eating a Southern-style diet (fried foods and sugary drinks!) increases the risk for sudden cardiac death (up to 46% higher risk), while eating a plant-based or Mediterranean style diet appears to lower that risk.
Sudden cardiac death (SCD) occurs when the heart suddenly stops beating, and death occurs within one hour from the onset of symptoms. Heart disease (coronary artery disease) is the most common underlying cause of SCD (75 to 80% of cases), but it can also have other causes (e.g. heart failure, valve disease). Sudden cardiac death is quite common in the US - about 1 in every 7.5 deaths (or nearly 367,000 deaths in 2016).
Univ. of Alabama researchers looked at 5 dietary patterns that people ate over a 10 year period:  plant-based (Mediterranean), Southern, convenience food, alcohol & salad, and sweets. People generally eat foods from all 5 groups, but what is significant is the primary pattern - what the person mostly eats. The Southern diet is most prevalent in the southeastern US, which is also known as the "Stroke Belt", due to the higher stroke death rate there.
A Southern-style dietary pattern is characterized by fried foods, added fats,  eggs, organ meats (such as liver or giblets), processed meats (e.g. bacon, hotdogs, cold cuts), and sugar-sweetened beverages. A plant-based or Mediterranean dietary pattern is rich in fruits, vegetables, seeds, nuts, whole grains, legumes (beans), and fish, and low in processed meats, added fats, and fried foods.
The bottom line here is that what you eat has an effect on your health, including heart health. Best is a diet rich in plant-based foods - which also happens to be fiber rich and best for feeding beneficial microbes in the gut. Try to eat at least a minimum of 5 to 6 servings of fruits and vegetables each day, but more (up to 8 or 9 servings) might be even better.
From Science Daily: The Southern diet - fried foods and sugary drinks - may raise risk of sudden cardiac death
Regularly eating a Southern-style diet may increase the risk of sudden cardiac death, while routinely consuming a Mediterranean diet may reduce that risk, according to new research published today in the Journal of the American Heart Association, an open access journal of the American Heart Association.  ...continue reading "A Southern Style Diet Linked to Increased Risk of Sudden Cardiac Death"