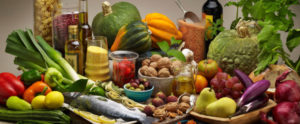 Great news for men who eat a Mediterranean style diet! A study found that after a diagnosis of prostate cancer, those men who ate a Mediterranean style diet had less progression of the cancer over the next three years.
These were men who were diagnosed when the cancer was still localized and who were doing "active surveillance", that is, just actively watching the cancer  and not having cancer treatments.
A Mediterranean style diet is rich in fruits, vegetables, whole grains, seeds, legumes, nuts, fish, and extra virgin olive oil. It is a diet high in fiber, and low in processed meats, fats, sugar, and highly processed foods.
The Mediterranean diet is associated with health in a number of ways, such as lowered risk of death and a number of diseases (e.g. heart disease), and also lowered levels of chronic inflammation. It also has a beneficial effect on gut microbes, resulting in an increase in beneficial microbes that are associated with health and lower levels of chronic inflammation. Chronic inflammation is linked to cancers and a number of diseases - thus the goal is to keep inflammation levels down.
The Univ. of Texas MD Anderson Cancer Center researchers said that the findings support the idea that a Mediterranean diet can affect prostate cancer progression through lowering of systemic inflammation. The researchers write: "The Mediterranean diet may be beneficial for men with localized prostate cancer on active surveillance  because of its anti‐inflammatory, antilipidemic, and chemopreventive properties." [chemopreventive means it "prevents or slows the development of cancer"; antilipidemic is something that "reduces lipid levels in the blood"]
From Science Daily: Mediterranean diet may decrease risk of prostate cancer progression
In a study to examine a Mediterranean diet in relation to prostate cancer progression in men on active surveillance, researchers from The University of Texas MD Anderson Cancer Center found that men with localized prostate cancer who reported a baseline dietary pattern that more closely follows the key principles of a Mediterranean-style diet fared better over the course of their disease.   ...continue reading "Mediterranean Diet May Lower the Risk of Prostate Cancer Progression"