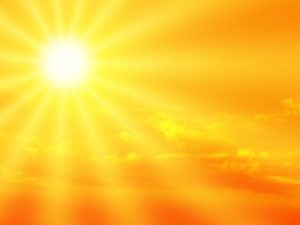 Will 2020 be the warmest year on record? Early signs are suggesting that it might be - e.g. May was the warmest May globally, and the forecast is for a hotter than average summer. As month after month breaks temperature records, the question is - at what point will certain areas of the US (and other parts of the world) become unbearable? What can humans tolerate?
Temperatures are inching towards 120 degrees F in the summer in southwest United States, and higher elsewhere in the world. This is incredibly high! [For comparison, at 133 degrees Fahrenheit the coronavirus Covid-19 is killed off after 15 minutes.] While it varies for each species, the general rule for organisms is: "Above a certain temperature, a cell will collapse and die."
A Scientific American article wrote about humans: "So how does heat kill? When core body temperature rises too high, everything breaks down: The gut leaks toxins into the body, cells begin to die, and a devastating inflammatory response can occur."
There are stages to how the body responds: First heat exhaustion occurs. This can be reversed by moving the person to a cool location, loosening clothing, and applying cool, wet wash clothes to the body. But if the person does't get cooled off, then it advances to heat stroke. This is where their core body temperature rises above 104 degrees F (40 degrees C). Heat stroke can trigger seizures, convulsions, coma, and even death.
Another important point: humans can tolerate higher heat if the humidity is low. People cool off by sweating, and if the humidity is high, they can't. So keep all these things in mind when contemplating rising summer heat spells. What will humans eventually do as temperatures keep going up year after year? Mass migrations? Try to cope somehow?
Excerpts from Science News For Students: Explainer: How heat kills
The human body can't handle excessive heat. The processes that keep us alive work best within a certain temperature window. That's generally between about 36° and 37° Celsius (96.8° to 98.6° Fahrenheit), depending on the person.  ...continue reading "How Hot Is Too Hot For Humans?"