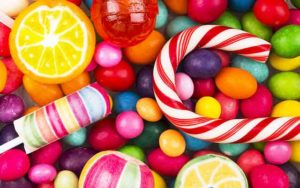 There have been concerns for years about the food additive titanium dioxide. This is because it may be in nanoparticle form, and recent studies have raised concerns that nanoparticles can travel to other organs in the body (because they are so small), and are inflammatory. Nanoparticles are so small that they are measured in nanometers or billionths of one meter.
It is added to food and medicines (e.g. Allegra) to make colors whiter and brighter, so it's not needed at all. It is in many processed foods, including candy and baked goods, so children actually consume more of it than adults. In Europe titanium dioxide nanoparticles (particles less than 100nm) are mainly found in the food additive called E171. Nanoparticles make up about 36% of the particles in E171.
Now a new study, even though done with mice, has raised more health concerns about titanium dioxide. Mice consuming titanium dioxide in their diet had significantly altered composition of their gut microbes, inflammation of their colon (the intestines), and changes in function of the liver. The effect was bigger in obese mice.
From Science Daily: Common food additive causes adverse health effects in mice
A common food additive, recently banned in France but allowed in the U.S. and many other countries, was found to significantly alter gut microbiota in mice, causing inflammation in the colon and changes in protein expression in the liver, according to research led by a University of Massachusetts Amherst food scientist.  ...continue reading "Titanium Dioxide Doesn't Belong In Food"