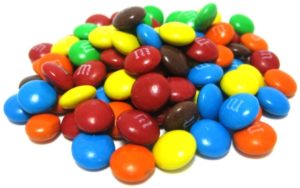 How frequently do you eat foods with nanoparticles in them? The use of nanoparticles in foods is increasing every year, with the result that people may eat foods with them daily (thus having chronic exposure). Nanoparticles in foods are ingredients so small that they are measured in nanometers or billionths of one meter. The most common nanoparticle is the food additive titanium dioxide, which in Europe is known as E171. Titanium dioxide is added to many processed foods, candy, and even supplements  and non-prescription medicines (e.g. antihistamines) as a "coloring" to make foods whiter or brighter. Currently there are no restrictions on using titanium dioxide nanoparticles in foods.
We still know very little about whether titanium dioxide nanoparticles have health risks to humans, but studies suggest they may cause intestinal inflammation, may disrupt gut microbes, and may migrate to other parts of the body. Now another study is raising more questions about the safety of titanium dioxide in food. It was done in mice, but the researchers feel it applies to humans. The researchers found that titanium dioxide resulted in a "pro-inflammatory environment and biofilm formation" in the intestines of the mice, and in this way could predispose humans to conditions such as inflammatory bowel disease and colorectal cancer. Bottom line: Read food ingredient lists!
From Science  Daily: Common food additive found to affect gut microbiota
...continue reading "Do You Eat Foods With Nanoparticles In Them?"