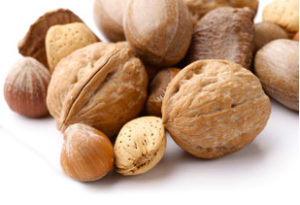 Are there foods that could prevent cancer? Well... studies show that a dietary pattern with lots of fiber, and perhaps along the lines of the Mediterranean diet, may be the most beneficial. In other words, it's not just one or a few "super-foods" that a person should eat, but an overall dietary pattern. But one specific food does appear beneficial for health - nuts, specifically tree nuts.
Researchers at the Yale Cancer Center followed a large group of stage 3 colon cancer patients after they had been treated for about 6.5 years, and looked at how frequently they consumed nuts. (Stage 3 colon cancer means it had spread to lymph nodes, but not to distant sites like the liver and lungs.) They found an association with frequent consumption (2 or more servings per week) of tree nuts (walnuts, hazelnuts, almonds, cashews, pecans, etc.) and a 42% lower incidence of the colon cancer recurring and 57% lower death rate. However, these findings did not apply to peanuts, which are legumes. [NOTE: One ounce or a handful of nuts is considered a serving.]
Why would nuts be beneficial? Generally speaking, nuts lower inflammation and insulin resistance. The lead researcher Dr. Charles Fuchs said that "behaviors that make you less insulin-resistant, including eating nuts, seem to improve outcomes in colon cancer". Parts of this research were discussed last year, but now it has been written up in the Journal of Clinical Oncology. ...continue reading "Nuts And Colon Cancer"