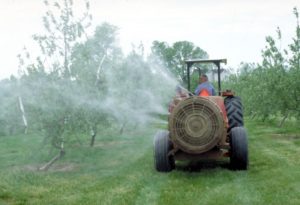 Something to think about: a group of international researchers found a correlation in Brazil between colon cancer and pesticides.
Brazil is one of the largest pesticide users in the world, and annual pesticide use is still increasing - along with increases in colon cancer and colon cancer deaths, especially in agricultural areas. While the study was correlational (didn't prove that pesticides caused the cancer) - what supports the findings is that some other studies in both humans and rodents found that pesticides increase the risk of colon cancer. Many pesticides are considered carcinogenic (cancer-causing).
The researchers pointed out that pesticides are contaminating water and food in Brazil, pesticide residues have been found in breast milk, pesticide residues in cow's milk exceed safety standards in some regions of Brazil, and 20% of food samples analyzed by one government agency between 2013 and 2015 were found to be unsafe for humans to eat due to high pesticide residue levels. One reason for recent  big increases in pesticide used is from genetically modified crops - so that they are resistant to pesticides (herbicides) applied.
Does all this sound familiar? It should - many of the same problems are occurring in the US, with pesticides found in water and food samples, in house dust, with steep increases in certain pesticides used due to their use on crops that are genetically modified to be resistant to pesticides (esp. glyphosate, 2,4-D), and pesticides are found in people (can be measured in blood, urine) - with levels of certain pesticides increasing (e.g. glyphosate).
Think of how casually people use pesticides - on their lawns, gardens, and in their homes. The bottom line is: what are we doing to ourselves with chronic low-level pesticide exposures? And it's not just one pesticide, it's many (so we're actually exposed to mixtures). [See posts on pesticides.]
Excerpts from Beyond Pesticides: Brazilian Researchers Link Rise In Colon Cancer To Increase In Pesticide Use    ...continue reading "Pesticides and Colon Cancer?"