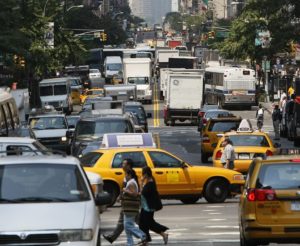 It has long been known that children living in congested cities have higher rates of asthma. All those vehicles, all that pollution. A recent study found that prenatal air pollution exposure is also important in asthma development.
Pregnant women exposed to high levels of tiny ultra-fine particles (UFPs, <0.1 µm) in the air were more likely to have children who developed asthma in the preschool years. Both boys and girls were affected, but high levels seemed to be especially harmful for girl babies exposed late in pregnancy.
Many of the women lived near major roadways with high traffic density - exposure to ultra-fine particles is greater there.
Ultra-fine particles are so small (<0.1 µm) that they can be considered nanoparticles. Their small size makes them so harmful - they can enter the lungs easily and from there travel throughout the body (including the organs), where they cause inflammation and other health effects. Unfortunately, ultra-fine particles are not regulated or routinely monitored in the United States.
From Science Daily: In utero exposure to tiny air pollution particles is linked to asthma in preschoolers
Women who were highly exposed to ultra-fine particles in air pollution during their pregnancy were more likely to have children who developed asthma, according to a study published in the American Journal of Respiratory and Critical Care Medicine in May. ...continue reading "Pregnancy and Air Pollution Linked to Asthma in the Children"