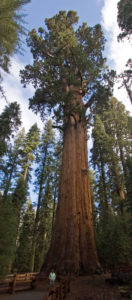 Trees that are several thousand years old in California's Sequoia National Park are in danger of being destroyed in this month's wildfires. Things are currently so bad that the base of some of the world's largest trees are being wrapped in aluminum fire-resistant blankets.
The trees being wrapped are giant sequoias, and the largest tree of all is called General Sherman. This tree is about 2200 to 2700 years old, 275 feet tall, over 36 feet in diameter at the base, and with a circumference of 102.6 at the base. (Almost as tall as the Statue of Liberty!).
Giant sequoia trees are adapted to fire, but both drought conditions and fires are getting more intense (climate change!) and can overwhelm them. Last year's Castle Fire destroyed an estimated 7500 to 10,600 mature giant sequoia trees that ranged in age from hundreds to 3000 years old. This is about 10 to 14% of these trees on Earth!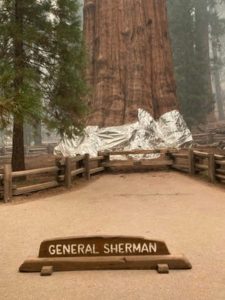 From The Guardian: World's largest tree wrapped in fire-resistant blanket as California blaze creeps closer
As flames crept closer to California's cherished sequoia trees firefighters took an unusual step to protect them, wrapping the giant bases in fire-resistant blankets.
The shiny material that helps quell flames, commonly used to protect structures, is rarely applied to natural features, but crews fighting the KNP Complex fire in the Sequoia national park said they are doing everything possible to protect the iconic trees. ...continue reading "Giant Sequoia Trees Wrapped In Fire Resistant Blankets"