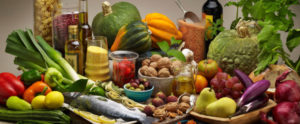 An observational study of older adults found that the Mediterranean diet may help preserve the connections between neurons in the brain, by preserving the microstructure in the white matter of the brain. This appeared to have a strong cognitive benefit - equal up to 10 years of delayed cognitive aging in those who adhered to the Mediterranean diet most closely. So if you haven't started already, try eating what the Mediterranean diet stresses: fruits, vegetables, whole grains, seeds, nuts, legumes, olive oil, some fish, and some wine. And cut back on highly processed foods, meat, and high fat foods. It's not one or two foods, but overall diet that is important. From Medscape:
Mediterranean Diet May Preserve Brain Structural Connectivity
The Mediterranean diet may help preserve structural connectivity in the brain in older adults, results of a French study hint. Greater adherence to the Mediterranean diet was associated with preserved microstructure in extensive areas of the white matter up to a decade later, the study team found. And this appeared to be related to strong cognitive benefit, equal to up to 10 years of delayed cognitive aging for those with the greatest adherence, they say....The study was published online July 16 in Alzheimer's & Dementia. The Mediterranean diet has been associated with a lower risk for Alzheimer's disease, but the underlying mechanisms have been unclear.
The new findings are based on 146 nondemented older adults in the Bordeaux Three-City study, a prospective cohort initiated in 1999-2000 to study vascular risk factors for dementia. Participants provided information on their diet in 2001-2002 (at a mean age of 73 years), underwent brain MRI an average of 9 years later (including diffusion tensor imaging)...On the basis of dietary assessment, 26% of participants had a low Mediterranean diet (MedDi) score of 0 to 3, indicating poor adherence to the diet; 47% had medium scores (4 or 5); and 27% had higher scores (6 to 8) representing the best adherence to the diet.
In adjusted analysis, there was no significant association between the MedDi score and grey matter or white matter volume. However, there was a strong association between the MedDi and diffusion tensor imaging patterns, suggesting that higher MeDi adherence was associated with a "general pattern of preserved WM [white matter] microstructure in multiple bundles," the researchers say. And preserved white matter microstructure with higher adherence to the MedDi "appeared to delay cognitive aging by up to 10 years."
"Our results suggest that the Mediterranean diet helps preserve the connections between neurons, which appear to be damaged with aging, vascular brain diseases and neurodegenerative diseases such as Alzheimer's dementia," Dr Samieri told Medscape Medical News. "In addition, the regions which appeared preserved with greater adherence to the Mediterranean diet were extended and were not specific to a particular disease, suggesting that the Mediterranean diet may have the potential to prevent not only stroke (as previously demonstrated with the PREDIMED [Prevención con Dieta Mediterránea] trial) but also multiple age-related brain pathologies," she added.
The added finding that none of the individual components of the Mediterranean diet was strongly associated with imaging results "supports our hypothesis that overall diet quality may be more important to preserve brain structure than any single food," they write.