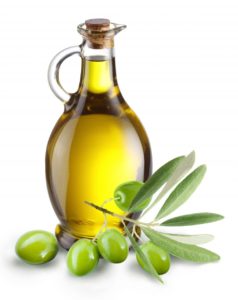 The following studies reinforce the advice that people should eat a variety of fruits and vegetables, as well as olive oil (part of the Mediterranean diet).
Studies find that consumption of fruits, vegetables, herbs, and extra virgin olive oil have various health benefits, and the following studies, even though not done with humans, suggest some reasons for their health benefits.
Luteolin appears to have anti-tumor effects, and so may reduce cancer risk. Dietary sources of luteolin include celery, broccoli, green pepper, parsley, thyme, dandelion, perilla, chamomile tea, carrots, olive oil, peppermint, rosemary, navel oranges, and oregano. Extra-virgin olive oil contains the ingredient oleocanthal, which appears to kill a variety of human cancer cells without harming healthy cells.
From Science Daily: Natural compound could reduce breast cancer risk in some women
The odds of women being diagnosed with breast cancer increase in postmenopausal women who have taken a combined estrogen and progestin hormone replacement therapy; these women also have an increased risk of developing progestin-accelerated breast tumors. Now, researchers have found that luteolin, a natural compound found in herbs such as thyme and parsley as well as vegetables such as celery and broccoli, could reduce the cancer risk for women who have taken hormone replacement therapy.
 "Nevertheless, research has proven that a higher incidence of breast cancer tumors can occur in women receiving therapies that involve a combination of the natural component estrogen and the synthetic progestin. Most older women normally have benign lesions in breast tissue," Hyder said. "These lesions typically don't form tumors until they receive the 'trigger'-- in this case, progestin--that attracts blood vessels to cells essentially feeding the lesions causing them to expand." His newest study shows that when the supplement luteolin is administered to human breast cancer cells in the lab, benefits can be observed including the reduction of those vessels "feeding" the cancer cells causing cancer cell death.
.... the natural compound exerts its anti-tumor effects in a variety of ways. Then, Hyder further tested laboratory mice with breast cancer and found that blood vessel formation and stem cell-like characteristics also were reduced in vivo, or inside the body.
From Medical Xpress: Ingredient in olive oil kills cancer cells with their own enzymes
A Rutgers nutritional scientist and two cancer biologists at New York City's Hunter College have found that an ingredient in extra-virgin olive oil kills a variety of human cancer cells without harming healthy cells. The ingredient is oleocanthal, a compound that ruptures a part of the cancerous cell, releasing enzymes that cause cell death.
Paul Breslin, professor of nutritional sciences in the School of Environmental and Biological Sciences, and David Foster and Onica LeGendre of Hunter College, report that oleocanthal kills cancerous cells in the laboratory by rupturing vesicles that store the cell's waste....Scientists knew that oleocanthal killed some cancer cells, but no one really understood how this occurred. Breslin believed that oleocanthal might be targeting a key protein in cancer cells that triggers a programmed cell death, known as apoptosis....  
After applying oleocanthal to the cancer cells, Foster and LeGendre discovered that the cancer cells were dying very quickly – within 30 minutes to an hour....LeGendre, a chemist, provided the answer: The cancer cells were being killed by their own enzymes. The oleocanthal was puncturing the vesicles inside the cancer cells that store the cell's waste – the cell's "dumpster," as Breslin called it, or "recycling center," as Foster refers to it. These vesicles, known as lysosomes are larger in cancer cells than in healthy cells, and they contain a lot of waste. But oleocanthal didn't harm healthy cells, the researchers found. It merely stopped their life cycles temporarily – "put them to sleep," Breslin said. After a day, the healthy cells resumed their cycles.