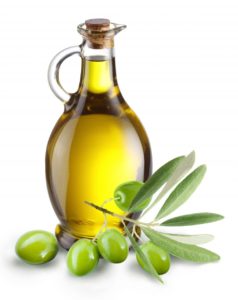 Once again research finds health benefits from consumption of olive oil. A recent large study found that consuming more than 1/2 tablespoon of olive oil per day lowered the risk of death from heart disease, cancer, neurogenerative disease, and respiratory disease.
The Harvard T.H. Chan School of Public Health researchers also found that increasing intake of olive oil in the diet (replacing margarine, butter, mayonnaise, and dairy fat with 2 1/4 teaspoons or 3/4 tablespoons olive oil) lowers risk of early death in general. The study participants were followed for 28 years, and diet was assessed every 4 years.
Earlier studies found that the best kind of olive oil to consume is extra virgin olive oil (EVOO). Extra virgin olive oil is considered anti-inflammatory, and contains oleocanthal, which has anticancer effects. Health benefits are both if eaten as is (e.g., dunk bread, in salad dressings) or cooked (e.g. roast vegetables, in sauces, cooking foods) - and this result was also found in this recent study.
From Science Daily: Higher olive oil intake associated with lower risk of CVD mortality
Consuming more than 7 grams (>1/2 tablespoon) of olive oil per day is associated with lower risk of cardiovascular disease mortality, cancer mortality, neurodegenerative disease mortality and respiratory disease mortality, according to a study publishing today in the Journal of the American College of Cardiology. The study found that replacing about 10 grams/day of margarine, butter, mayonnaise and dairy fat with the equivalent amount of olive oil is associated with lower risk of mortality as well.  ...continue reading "Olive Oil Lowers the Risk of Death From Several Diseases"