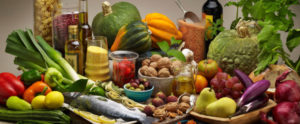 Another study providing evidence that the Mediterranean diet is good for the brain. In elderly dementia-free adults (mean age 80 years) - those that generally followed a Mediterranean diet (higher adherence) had a larger brain volume than those not following the Mediterranean diet, as well as more total gray and white matter volume.The difference between the groups is equal to about 5 years of aging.
Having "higher adherence to the Mediterranean diet" in the study meant higher consumption of healthy foods or lower consumption of unhealthy foods. The Mediterranean diet stresses a  high intake of vegetables, legumes, fruits, whole grains, fish, olive oil, and low intake of saturated fatty acids, dairy products, meat, and poultry; and mild to moderate amounts of alcohol. Specifically: Higher fish intake (at least 3 to 5 oz. weekly) and lower meat intake (no more than 3.5 oz. daily) correlated with greater total gray matter volume. Higher fish intake was also associated with "greater mean cortical thickness". From Medical Xpress:
Mediterranean diet may keep your mind healthier in old age
In news that sounds a bit like it came straight from a sci-fi thriller, researchers say that eating too much meat might shrink your brain. On the flip sid e, however, eating healthy foods from the so-called Mediterranean diet may help your brain stay in good shape as you get older, the new study suggests. The researchers said that people over 65 who ate more fish, vegetables, fruit, grains and olive oil had a larger brain volume than a similar group who didn't follow a Mediterranean diet.
"It was encouraging to see that the more you adhere to this Mediterranean diet, the more protection you get against brain atrophy [shrinkage]," said study author Yian Gu, an assistant professor of neuropsychology at Columbia University in New York City. .... But Gu noted that her study's observational findings cannot prove a definitive cause-and-effect relationship between diet and brain volume. The study was only designed to find an association.
Previous research has linked the Mediterranean diet to a lower risk of Alzheimer's disease, the study said. The diet stresses the consumption of vegetables, legumes (beans, peas and lentils), fruits, cereals, fish and monounsaturated fats such as olive oil, the study authors said. The eating plan also includes a low intake of meat, poultry, saturated fats and dairy products, as well as mild to moderate amounts of alcohol, according to the researchers.
For the study, Gu and her colleagues split 674 adults into two groups based on how closely their diets aligned with the Mediterranean diet. Their average age was 80 years. All participants underwent MRI scans of their brains to measure total brain volume and thickness. They also completed questionnaires about their food choices and eating patterns.
The researchers found that brain volumes of those who didn't follow a Mediterranean diet were smaller than those who did. The difference was minor in overall size—equated to about five years of aging, the study authors said. But, more specifically, the investigators found that eating more fish and less meat was associated with even less brain shrinkage. Using the study findings, Gu contended that eating at least 3 to 5 ounces of fish weekly, or no more than 3.5 ounces of meat each day, could protect the brain from shrinkage. She acknowledged that study participants may have inaccurately recalled their food consumption habits in the questionnaires used.