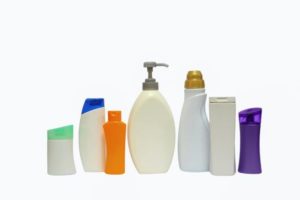 We're surrounded by hormone disrupting chemicals (endocrine disruptors) in daily life - in plastics, personal care products, pesticides, food containers, plastic toys, etc.
A recent study done in the European Union (EU) reports on a growing body of evidence suggesting that exposures to endocrine-disrupting chemicals (EDCs), particularly phthalates and diphenyldichloroethene (DDE), contribute to the development of common reproductive disorders in women: endometriosis and uterine fibroids. A group of global EDC experts estimated the economic costs of these female reproductive disorders attributable to endocrine disrupting chemical exposures at nearly €1.5 billion ($158 billion) annually.
EDCs (like DDT and phthalates) are believed to contribute to health problems by mimicking, blocking, or otherwise interfering with the function of hormones by disrupting the signaling system the body uses to determine how cells develop and grow.
A number of studies suggest a byproduct of the pesticide DDT, a chemical known as DDE, can raise the risk of developing uterine fibroids, and that another group of chemicals called phthalates, which are found in plastic products and cosmetics, have been linked to a risk of edometriosis. Keep in mind that several other chemicals, such as PCBs, or polychlorinated biphenyls, and BPA have also been linked with female reproductive health problems. From Science Daily:
Chemical exposure linked to 1.4 billion euros in women's health care costs, study suggests
Endocrine-disrupting chemicals may contribute to reproductive health problems experienced by hundreds of thousands of women, costing European Union an estimated 1.4 billion Euros ($1.5 billion) a year in health care expenditures and lost earning potential, according to a new study. The study examined rates of uterine fibroids -- benign tumors on the uterus that can contribute to infertility and other health problems -- and an often painful condition called endometriosis where the tissue that normally lines the uterus develops elsewhere in the body. The two conditions are common, with as many as 70 percent of women affected by at least one of the disorders.
Research has linked the development of uterine fibroids and endometriosis to chemicals found in pesticides, cosmetics, toys and food containers. Past studies suggest a byproduct of the pesticide DDT, a chemical known as DDE, can raise the risk of developing uterine fibroids. Another group of chemicals called phthalates, which are found in plastic products and cosmetics, have been tied to growing risk of endometriosis.....DDT and phthalates are known endocrine-disrupting chemicals (EDCs). 
"Although these two gynecological conditions affect millions of women worldwide, we recognize that this analysis only reflects the tip of the iceberg," Trasande said. "A growing body of evidence suggests EDC exposure is linked to a broader range of female reproductive problems, including polycystic ovary syndrome, infertility and pregnancy complications. These disorders also place a significant cost burden on women, their families and society as a whole.
A news story added some extra details and background to this story. From CNN:
Common chemicals linked to endometriosis, fibroids -- and healthcare costs
Hormone-disrupting chemicals are everywhere -- in plastics, pesticides and makeup -- and two of them, phthalates and DDE, have been particularly strongly linked with common female reproductive conditions, such as fibroids. In a new study, researchers estimate that the problems caused by these two chemicals alone could cost the European Union at least 1.41 billion euros a year, the U.S. equivalent of about $1.58 billion.
DDE is a breakdown product of the insecticide DDT that, although banned in the United States in 1972 and in Europe starting in the 1970s, still lingers in the environment and enters our body through food. The main exposure to phthalates is through eating food and drink stored in plastic containers that have phthalates.....In a similar way, they relied on a study that linked higher phthalate levels in women who had been diagnosed with endometriosis compared to healthy women.
The current study is important because it focused on chemicals that have not been restricted, and in the case of DDE -- which persists in the environment -- are not able to be restricted, Birnbaum said. However, she said she was surprised the researchers did not include an analysis of chemicals such as BPA, which has also been linked to endometriosis risk."This study is kind of a wake-up to say endocrine disruptors impact the female reproductive system, and we have some evidence they are associated with an increase in endometriosis and fibroids and it costs a lot of money," Birnbaum said.
Even with all the questions that remain, and few regulations in place, "there are safe and simple steps that families and women can take to reduce exposure to endocrine-disrupting chemicals," Trasande said. "They can eat organic, reduce canned food consumption, which reduces exposure to BPA, and avoid packaged or highly processed food, which is a major route for phthalates to enter food. They can also open windows to allow chemical dust, which accumulates on the carpet and electronics, to circulate out of homes."