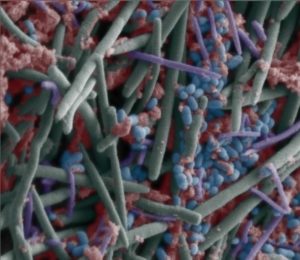 We all have millions of microbes living in our sinuses – bacteria, viruses, and fungi. This is normal.
An amazing fact is that living together are beneficial, benign, and what we normally consider harmful microbes. And this is normal. This rich and diverse community of microbes living in the sinuses is called the sinus microbiome or microbiota.
OUR SINUSES: We have 4 pairs of sinuses in our heads, which are air-filled and lined with a mucus membrane with cilia. The cilia steadily beat (700 to 800 times a minute!) in order to move mucous into the nasal cavity. Microbes live in the mucous lining.
For years it was thought that the sinuses were sterile, and a sinus infection meant that a harmful microbe (pathogen) had invaded. In the 1990s a popular view was that fungi were the cause of chronic sinusitis. But with the development of new technologies (genetic sequencing) in the last 2 decades, it was discovered that millions of all sorts of microbes live in the sinuses in both healthy and sick persons. And yes, that it was normal to have fungi in the sinuses (so that theory was dropped).
THE CURRENT VIEW: Millions of microbes live in complex communities, interact with one another, and with us (we're their host!). In healthy persons all the microbial species are in equilibrium, and potentially harmful species are kept in check. But sometimes the communities can become disrupted and imbalanced – this is called dysbiosis.
When there is disruption (e.g., from an infection, allergies), then there can be an overgrowth or a big increase in the potentially harmful microbes living in the sinuses. This can make you more susceptible to an infection or it can result in sinusitis symptoms. (In chronic sinusitis there is an imbalanced sinus microbiome and also inflammation of the sinus mucous lining.)
A HEALTHY SINUS MICROBIOME: It turns out that what is a healthy sinus microbiome varies from person to person. Yes, there is a "core" sinus microbiome of species that are shared throughout the world. (For example: Corynebacterium and Staphylococcus species) ...continue reading "Microbes Live In Our Sinuses"