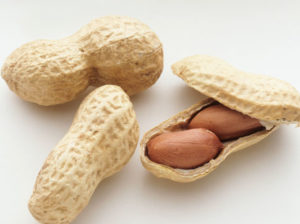 Guidelines for how to prevent food allergies in children are changing. Until very recently, it was avoid, avoid, avoid exposing babies or young children to any potential allergens. Remember parents being advised that if an allergy to X (whether pets or food) runs in the family, then absolutely avoid exposing the child to the potential allergen? Well, recent research (here, here, and here) found that the opposite is true - that in the first year of life the baby should be exposed to potential allergens (whether animals or food) which stimulates the child's developing immune system in beneficial ways.
Physicians at a recent conference of allergists said that evidence shows that allergenic foods — including peanuts, eggs, and milk — should be introduced in the first year of life. The new 2017 medical guidelines will recommend introducing small amounts of peanuts (mixed in with other foods), when children are 4 to 6 months of age..
About two years ago a landmark study (LEAP study) found that when infants at a high risk of developing peanut allergy consumed peanuts on a regular basis, their risk of peanut allergy was dramatically reduced. And the opposite was also true: peanut avoidance in the first year of life was associated with a greater frequency of peanut allergy. Which made doctors start to rethink their strategies of how to avoid food allergies. From Medscape:
Allergenic Foods Should Be Introduced to Infants Early
Although the evidence shows that allergenic foods — including peanuts, eggs, and milk — should be introduced in the first year of life, guidelines are lagging behind, said an allergist speaking here at the American College of Allergy, Asthma & Immunology (ACAAI) 2016 Annual Scientific Meeting. Official guidelines to be issued early in 2017 will address only peanuts, recommending introduction when children are 4 to 6 months of age.
"There is now a large body of observation and trial data for other foods, including egg, that show that delaying the introduction of allergenic solids increases the risk of those particular food allergies," said Katrina Allen, MBBS, PhD, from the Murdoch Childrens Research Institute in Melbourne, Australia. Policy changes are needed to help guide parents' decisions, she said. In fact, there is evidence showing that changes to policy — namely, infant-feeding guidelines — mirror the rise in the incidence of food allergies.
Not everyone agrees on exposure amount and timing in the case of egg allergy. In a recent trial, researchers looked at the early introduction of allergenic foods in breast-fed children (N Engl J Med. 2016;374:1733-1743). The prevalence of any food allergy was significantly lower in the early-introduction group than in the standard-introduction group, as was the prevalence of peanut allergy and egg allergy. And a study Dr Allen was involved in, which introduced cooked egg in small amounts, showed that early introduction reduced allergy (J Allergy Clin Immunol. 2010;126:807-813).
However, in a German study, where greater amounts of egg were introduced at 4 to 6 months, early exposure increased the risk for life-threatening allergic reactions (J Allergy Clin Immunol. Published online August 12, 2016). And in the STEP study, there was no change in the number of food allergies in 1-year-old children when egg was introduced early (J Allergy Clin Immunol. Published online August 20, 2016). However, that did not take into account high-risk infants, particularly those with eczema, who are known to have a higher incidence of egg allergy and are likely to see a much greater benefit from the early introduction of egg.
The new peanut guidelines — coauthored by Amal Assa'ad, MD, from the Cincinnati Children's Hospital, who is chair of the ACAAI food allergy committee — will recommend that children with no eczema or egg allergy can be introduced to peanut-containing foods at home, according to the family's preference. And for children with mild to moderate eczema who have already started solid foods, the guidelines say that peanut-containing foods can be introduced at home at around 6 months of age, without the need for an evaluation. However, the guidelines caution, peanut-containing foods should not be the first solid food an infant tries, and an introduction should be made only when the child is healthy. The first feeding should not happen when the child has a cold, is vomiting, or has diarrhea or another illness.
For eggs, there is no official recommendation as of yet....The early introduction of allergenic foods is not the only policy that needs to be changed to lower the incidence of food allergies, Dr Allen told Medscape Medical News. Other factors, particularly environmental factors — mostly written up in observational studies — are contributing to an increasing intolerance to allergenic foods. Policies advocating that kids "get down and dirty," have more exposure to dogs, and bathe less are also warranted....Dr Allen and Dr Assa'ad agree that delaying the introduction of foods such cow's milk and egg until after 12 months is harmful. Guidelines should encourage families to introduce these foods in the first year of life, once solids have commenced at around 6 months, but not before 4 months.