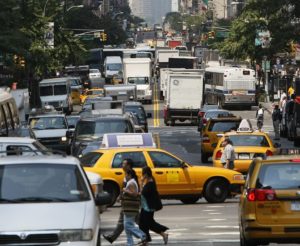 Study after study finds negative health effects from air pollution, such as heart disease (here, here, and here). Now two more studies found that living in areas with high air pollution is linked to a higher stroke risk. One study (done in Japan) found an increase of ischemic stroke on the same day as exposure to high levels of air pollution, while the other (done in London, UK) found a higher risk of death after stroke (especially ischemic strokes) in patients who live in areas of high air pollution. This was especially pronounced with exposure to smaller or fine particulate matter (PM2.5)- which is found in high quantities in vehicle exhaust fumes.
It is thought that the fine particles in the air (PM2.5) contribute to the development of potentially fatal diseases various ways - by causing chronic inflammation, and also because they slip past the body's defenses and can be absorbed deep into the lungs and bloodstream. They are not sneezed or coughed out the way larger natural particles, like airborne soil and sand, are removed from the body's airways. What can be done? Other studies have found that when air pollution is reduced, than the risk of death is reduced. So yes, pollution controls on vehicles such as trucks and buses are good. And just think how much air pollution will be reduced when electric vehicles replace current gas powered cars and trucks. From Medscape:
Air Pollution Linked to Higher Stroke Mortality
More evidence showing that living in areas with high levels of air pollution is linked to a higher stroke risk has come from two new studies. Both studies are published online in the journal Stroke. The first, from the United Kingdom, shows a higher risk for death after a stroke in patients who live in areas of high air pollution, and the other, a Japanese study, suggests a higher risk for a new stroke the same day as exposure to high levels of air pollution.
"We have shown a significantly increased risk of death after stroke in patients who had long-term exposure to high levels air pollution before their stroke occurred," senior author of the UK study, Charles Wolfe, MD.... "This was particularly pronounced for high exposure to smaller particulate matter — particles below 2.5 μm in diameter (PM2.5) — which are found in high quantities in exhaust fumes." For the study, Professor Wolfe and colleagues analyzed data from the South London Stroke Register, a population-based register covering an urban, multiethnic population.....Results showed an increased risk for death up to 5 years after stroke in patients living in areas of high air pollution.
"While this study adds to the evidence linking air pollution to cardiovascular disease, it cannot prove causality as it has an observational design," Professor Wolfe commented...."So it is difficult to say for certain that it is the air pollution that is responsible but there are many studies now that have shown similar associations," he said. He noted that the smaller particles (PM2.5) were associated with a worse effect on mortality and this correlated with biological studies that have shown a greater inflammatory effect of small particulate matter vs larger particulate matter on the vessel wall. "Our study suggests that people who have previously had an ischemic stroke, but not a hemorrhagic stroke, may be more vulnerable and at a higher risk of death to chronic, long-term exposure of PM," they conclude.
The Japanese study, by lead author Ryu Matsuo, MD, PhD, Department of Health Care Administration and Management Graduate School of Medical Sciences, Kyushu University, Fukuoka, Japan, and colleagues, looked at acute exposure to air pollution and shows a small increase in the risk of having a stroke within a day of high exposure to pollution. For the study, the researchers analyzed data on 6885 ischemic stroke patients from a multicenter hospital-based stroke registry in Japan who were previously independent and hospitalized within 24 hours of stroke onset.
Professor Wolfe said his group have conducted a similar study looking at exposure of air pollution in the year before stroke, which showed a 23% increase in stroke risk in those exposed to higher levels of PM2.5.