Well, it looks like the medical advice for avoiding food allergies in children has come full circle. For decades health professionals said for babies to avoid eating problem foods (e.g., eggs, dairy, peanuts) if parents have food allergies. But..it turned out that following this advice did not prevent food allergies.
Results of studies in the past decade changed medical views regarding food allergies. Now the advice is: Early exposure (in the first year of life) to foods such as eggs, milk, peanut butter, and wheat is preventive - don't avoid.
A recent well done Scandinavian study confirmed that this advice is good for all young children, not just those with a family history of food allergies. Starting at 3 months of age, infants who regularly ate tiny amounts of foods (wheat, eggs, cow's milk, peanuts) had a lower chance of food allergies by 3 years of age.
Only .9% of these children developed food allergies, while 2.3% to 3% of children not getting early exposure to foods developed egg, dairy, or peanut allergies.
Also, in this study some infants had their skin rubbed with skin emollients, bath additives and facial cream from 2 weeks to 8 months, 4 times per week, and more of them developed food allergies - whether also avoiding foods or not. [My comment: Why would anyone think that would help with food allergies? It sounds irritating! And it perhaps/probably messed with their skin microbiome.]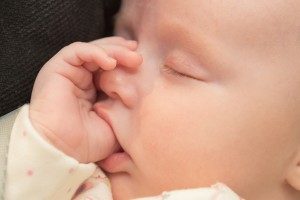 New advice: Infants should have early exposure to potentially problem foods, starting as early as 3 months, to lower their risk of developing food allergies. Delaying the introduction of these foods actually increases the risk of food allergies. (By the way, the same advice also holds true for avoiding pet allergies - exposure to furry pets in the first year of life is important.)
From Medical Xpress: Early food introduction can reduce risk of food allergy in children
Infants who were given a taste of peanut, milk, wheat and egg from the age of three months had a lower risk of developing a food allergy at the age of three years than controls, reports a study by researchers from Karolinska Institutet in Sweden and the University of Oslo in Norway published in The Lancet. ...continue reading "Early Exposure to Foods Reduces Risk of Developing Food Allergies"