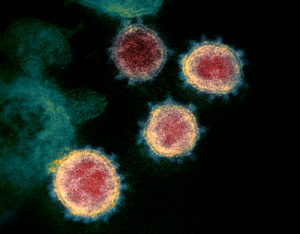 Holy mackerel! Currently COVID-19 kills someone in the United States every 107 seconds! And the U.S. is reporting more than 70,000 new coronavirus cases each day.
Wear a mask! Wearing a mask protects us from others exhaling the virus, protects us from inhaling the virus, and lowers how much virus we are exposed to (cloth and surgical masks protect us from most virus particles, but not all). There is evidence that wearing masks so lowers the amount of virus a person is exposed to (viral load), that if a person gets the infection, the body can deal with it much better and the infections may be asymptomatic or minor. This is huge - the possibility that up to 95% of infections could be asymptomatic!
Excerpts from Medscape: US Cases Spike as COVID Kills Every 107 Seconds
The U.S. is reporting more than 70,000 new coronavirus cases each day, and 41 states are reporting at least 10% more cases this week than the week before, according to CNN.
Four of the five highest days occurred during the past week, with the U.S. setting a record on Tuesday of more than 500,000 infections in a 7-day period.
Daily deaths are also climbing across the country, with one American dying every 107 seconds, according to USA Today .
The U.S. is "not in a good place," Anthony Fauci, MD, director of the National Institute of Allergy and Infectious Diseases, said Wednesday during a Q&A session with JAMA, the journal of the American Medical Association. The rising surge, paired with cold winter months and holiday gatherings, creates a "bad recipe for a tough time ahead," he said.
Fauci supported a national mask mandate on Wednesday to reduce the spread of the coronavirus and ease the burden of the months ahead. But a national mandate is unlikely to come from the White House, he said.
"We're going to have many more hospitalizations, and that will inevitably lead to more deaths," he told CNBC. "This is an untenable situation."
COVID-19 hospitalizations are spiking in the Midwest as well, with 13 states reporting peaks on Wednesday, according to the COVID Tracking Project.
Indiana and Wisconsin reported their peak days during the past week, and Kansas reported the highest number of COVID-19 patients in the intensive care unit on the same day the state's death toll passed 1,000.
Illinois has increased restrictions in most regions, according to NBC 5 Chicago, which includes a closure of indoor dining and limits on gatherings to less than 25 people. The remaining regions could face new restrictions this weekend as cases and hospitalizations continue to increase.
Coronavirus cases are surging across the world as well, with last week marking the highest tally of COVID-19 cases so far, according to the World Health Organization.