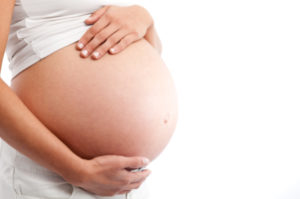 There is much debate over whether pregnant women should get a COVID-19 vaccine. This is because studies of pregnant women receiving vaccinations have not been done, and so risks and possible harms (if any) are unknown. But what is known is that pregnant women are at higher risk for pregnancy complications if they get COVID-19 (e.g. increased risk of preterm labor and stillbirth).
Pregnant women getting the vaccine are essentially part of an experiment looking at the vaccine's safety for both the pregnancy and the developing baby. But finally a case study (one woman!) has been published.
The good news is that results look promising. Antibodies from the vaccinated mother crossed the placenta and reached the baby. The pregnant woman had received the Moderna vaccine at 36 weeks, she delivered the healthy baby at 39 weeks, and antibodies against the virus were found in the umbilical cord blood - which meant they had been transferred from the mother to the baby.
A related study (see below) also gives hope that it may be beneficial for pregnant women to get vaccinated - at least 17 days before the birth so that antibodies can build up.
Excerpts from The Scientist: COVID-19 Vaccines for Pregnant Moms May Protect Newborns
Pregnant women with COVID-19 are at an increased risk for severe illness and death compared to people with COVID-19 who are not pregnant, and they experience preterm birth and pregnancy loss more frequently than do expecting moms who don't catch the virus. In spite of these risks, there is no clear guidance available yet for vaccinating pregnant women against COVID-19. But there is now some evidence that immunization could protect their newborns. For the first time, doctors report that SARS-CoV-2 antibodies from a vaccinated mother can cross the placenta, pointing to a likely benefit for her fetus. 
"It validates what we've always suspected . . . that mothers can be vaccinated during pregnancy and can provide some of that level of immunity to their unborn child," says Chad Rudnick, a pediatrician at Florida Atlantic University and one of the authors of the study, which was posted as a preprint to medRxiv February 5.
His case report documents the experience of a front-line healthcare worker who opted to receive her first dose of the Moderna mRNA COVID-19 vaccine while 36 weeks pregnant. The mother was considered not to have had COVID-19 previously because she had no history of exposure or symptoms, although she was not tested for SARS-CoV-2 antibodies prior to vaccination. After the birth of her baby at 39 weeks, Rudnick detected IgG antibodies against SARS-CoV-2 in the cord blood, confirming the transfer of maternal antibodies to the fetus via the placenta.
A recent publication in JAMA Pediatrics showing that SARS-CoV-2 antibodies can similarly cross the placenta during natural infection offers some clues about the optimal timing window for vaccination. Karen Puopolo, a neonatologist at the Children's Hospital of Philadelphia, and colleagues found SARS-CoV-2 IgG antibodies in the placentas from 72 out of 83 pregnant women who had previously had the virus. The concentration of antibodies in the cord blood correlated with maternal antibody concentration and the time between infection and delivery. Specifically, if the mom's antibodies levels were high, so were the levels in the cord blood, and the longer before delivery that she had the infection, the greater the abundance of antibodies.
"That kind of makes sense for a new disease," says Puopolo. "It takes some time for your body to make an antibody response, and then it takes some time for that antibody to be transferred across the placenta." Her team found that 17 days before birth was the minimum time for maternal SARS-CoV-2 antibodies to show up in the cord blood after infection. That same window may apply to vaccination as well, she says.
Currently, the most authoritative guidance for COVID-19 vaccinations for pregnant women comes from the American College of Obstetricians and Gynecologists, which advises that the vaccine should not be withheld due to pregnancy, and that women should make their own decision after consulting with their physician. While awaiting more data about the risks and benefits of the vaccine during pregnancy, these early studies suggest that a vaccination could provide newborns with some level of protection against infection.