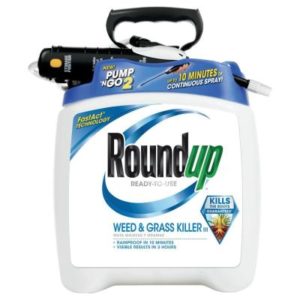 We all get exposed to pesticides to varying degrees - whether from our water, foods we eat, inhaling them, or absorbing them through our skin (e.g., walking or playing on pesticide treated lawns). Unfortunately, studies show our exposure to the pesticide glyphosate (found in Roundup) is increasing each year.
The CDC (Centers for Disease Control and Prevention) does biomonitoring of persons in the US to see what chemicals we are being exposed to by measuring levels in the blood and urine of both adults and children. They recently released the finding that about 80% of us have glyphosate residues. Even worse, about 87 percent of the 650 children they tested had detectable levels of glyphosate in their urine.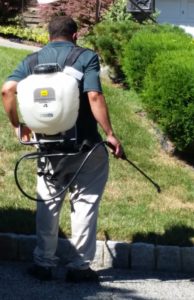 Glyphosate is the most widely used herbicide (it kills vegetation) in the US and the world. Nearly 300 million pounds of the pesticide are applied each year in the United States, with greater than 88.6 pounds per square mile in the US midwest (according to the USGS). Glyphosate residues have been found in all sorts of foods, honey and grain cereals.
What is it doing to us? It has been linked to a number of human health effects, such as cancer, endocrine (hormone) disruption, liver and kidney damage, preterm birth, and even having a negative effect on our gut microbiome - by killing off certain important species of gut microbes. There is much we still don't know about chronic exposure to low levels of the pesticide.
A 2017 study following adults over the age of 50 from 1993 to 2016, residing in Southern California, found that the percentage of adults with glyphosate residues in urine went from 12% to 70% during that time. And now the CDC reports an even higher rate. Much of this increase is due to genetically modified crops (crops that are Roundup resistant) and also to the increase in "preharvest" applications on regular crops.
What can you do? Eat as much organically grown food as possible. This is because organic farmers are NOT allowed to use glyphosate. And don't use Roundup or other glyphosate products on your property.
What EWG (Environmental Working Group) has to say about glyphosate: CDC finds toxic weedkiller in 87 percent of children tested
From Medical Xpress: Weed killer glyphosate found in most Americans' urine
More than 80% of Americans have a widely used herbicide lurking in their urine, a new government study suggests.
The chemical, known as glyphosate, is "probably carcinogenic to humans," the World Health Organization's International Agency for Research on Cancer has said. Glyphosate is the active ingredient in Roundup, a well-known weed killer.
The U.S. National Nutrition Examination Survey found the herbicide in 1,885 of 2,310 urine samples that were representative of the U.S. population. Nearly a third of the samples came from children ages 6 to 18.
"Glyphosate is the most widely used herbicide in the country, yet unto now we had very little data on exposure," said Alex Temkin, a toxicologist at the Environmental Working Group, in a statement issued Monday. "Children in the U.S. are regularly exposed to this cancer-causing weed killer through the food they eat virtually every day."
"The Environmental Protection Agency should take concrete regulatory action to dramatically lower the levels of glyphosate in the food supply and protect children's health," Temkin added.
Traces of the herbicide have previously been found in kids' cereals, baby formula, organic beer and wine, hummus and chickpeas.
German pharmaceutical company Bayer purchased the Roundup brand when it bought the agrochemical company Monsanto in 2018, CBS News reported.