From Science Daily: Direct evidence of exposure of pregnant women to herbicide ingredient
The first birth cohort study of its kind has found more than 90 percent of a group of pregnant women in Central Indiana had detectable levels of glyphosate, the active ingredient in Roundup, the most heavily used herbicide worldwide. Researchers from Indiana University and University of California San Francisco reported that the glyphosate levels correlated significantly with shortened pregnancy lengths.
"There is growing evidence that even a slight reduction in gestational length can lead to lifelong adverse consequences," said Shahid Parvez, the principal investigator of this study and an assistant professor in the Department of Environmental Health Science at the IU Richard M. Fairbanks School of Public Health at IUPUI. The study is the first to examine glyphosate exposure in pregnant women in the United States using urine specimens as a direct measure of exposure.
Parvez said the main finding of the study was that 93 percent of the 71 women in the study had detectable levels of glyphosate in their urine. "We found higher urine glyphosate levels in women who lived in rural areas, and in those who consumed more caffeinated beverages," he said.
"One thing we cannot deny is that glyphosate exposure in pregnant women is real," Parvez said. "The good news is that the public drinking water supply may not be the primary source of glyphosate exposure, as we initially anticipated. None of the tested drinking water samples showed glyphosate residues. It is likely that glyphosate is eliminated in the water-treatment process. The bad news is that the dietary intake of genetically modified food items and caffeinated beverages is suspected to be the main source of glyphosate intake."
Use of glyphosate is heaviest in the Midwest due to corn and soybean production. Its residues are found in the environment, major crops and food items that humans consume daily.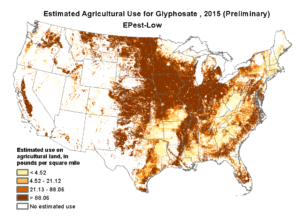 Credit: USGS