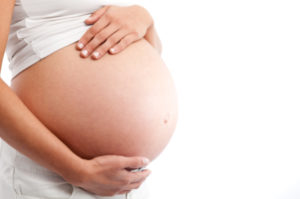 Some good news for women who had a Covid-19 infection during pregnancy - one small study found reassuring results about the growth and development of the babies. The Northwestern University researchers found that at the 6 month checkup the babies overall had normal growth patterns and developmental milestones. This is great, great news!
Yes, it was a small study (33 low-income women and their babies). Three infants (10%) did receive development-related referrals (one had an underlying genetic diagnosis) - but the "referrals not higher" than what the physicians said they normally see. More good news: none of the babies tested positive for COVID-19.
From Science Daily: Normal 6-month outcomes in babies of women with COVID-19 during pregnancy
Babies born to women who had COVID-19 during pregnancy showed reassuring patterns of growth and development at 6-month follow-up, according to a study from Ann & Robert H. Lurie Children's Hospital of Chicago and Northwestern Medicine in partnership with Erie Family Health Center, a Federally Qualified Health Center (FQHC) that serves a diverse and low-income patient population.  ...continue reading "COVID-19 During Pregnancy and Some Reassuring News About the Baby"