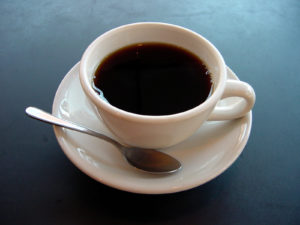 It seems that every so often another study finds that daily coffee consumption is healthy for a person. A recent large study found that daily drinking of 2 to 3 cups coffee is associated with a lower risk of early death (from any cause) and lower risk of cardiovascular  disease, when compared to non-coffee drinkers.
The University of Melbourne researchers also found that drinking ground and instant coffee, but not decaffeinated coffee, was associated with a reduction in arrhythmias including atrial fibrillation. In this study cardiovascular disease included heart disease, congestive heart failure, and ischemic stroke.
More good news - it applied to all types of coffee (ground, decaffeinated, and instant). However, when looking at the study results, ground coffee appears to be more beneficial than decaf or instant coffee. Two to three cups of coffee per day appeared to be the most beneficial.
The researchers point out that coffee contains more than 100 biologically active components, which are contributing to its health effects.[Other coffee studies] They also said that mild to moderate coffee consumption should be considered part of a heart healthy lifestyle. Great news!
From Science Daily: Coffee drinking is associated with increased longevity
Drinking two to three cups of coffee a day is linked with a longer lifespan and lower risk of cardiovascular disease compared with avoiding coffee, according to research published today in the European Journal of Preventive Cardiology, a journal of the ESC.1 The findings applied to ground, instant and decaffeinated varieties. ...continue reading "Coffee Drinking Linked to Longer Life and Lower Risk of Heart Disease"