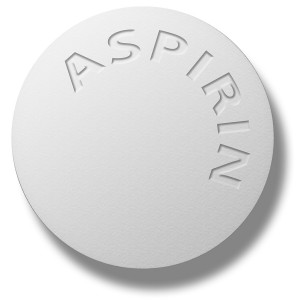 Some recent studies looked at aspirin use and cancer and found that consistent use for a number of years (5 to 10 years) lowers the rate of a number of cancers, including colon cancer. However, the longer one takes daily aspirin - then harms start adding up, with a major one being gastrointestinal bleeding. NSAIDs (non-steroidal anti-inflammatory drugs) are also linked to lower rates of various cancers, but harms with long-term use are cardiovascular risks (stroke and heart attack). The first article discusses that many doctors think this lower cancer rate occurs because aspirin and NSAIDs lower inflammation, and as we know, inflammation is linked to cancer.
From Science News: Aspirin reverses obesity cancer risk
Research has shown that a regular dose of aspirin reduces the long-term risk of cancer in those who are overweight in an international study of people with a family history of the disease....They found that being overweight more than doubles the risk of bowel cancer in people with Lynch Syndrome, an inherited genetic disorder which affects genes responsible for detecting and repairing damage in the DNA. Around half of these people develop cancer, mainly in the bowel and womb. However, over the course of a ten year study they found this risk could be counteracted by taking a regular dose of aspirin.
Lots of people struggle with their weight and this suggests the extra cancer risk can be cancelled by taking an aspirin.This research adds to the growing body of evidence which links an increased inflammatory process to an increased risk of cancer. Obesity increases the inflammatory response. One explanation for our findings is that the aspirin may be suppressing that inflammation which opens up new avenues of research into the cause of cancer."
When they were followed up ten years later, 55 had developed bowel cancers and those who were obese were more than twice as likely to develop this cancer -- in fact 2.75 times as likely. Following up on patients who were taking two aspirins a day revealed that their risk was the same whether they were obese or not....What is surprising is that even in people with a genetic predisposition for cancer, obesity is also a driver of the disease. 
The researchers believe the study shows that aspirin is affecting an underlying mechanism which pre-disposes someone to cancer and further study is needed in this area. Since the benefits are occurring before the very early stages of developing a tumour -- known as the adenoma carcinoma sequence -- the effect must be changing the cells which are predisposed to become cancerous in later years.