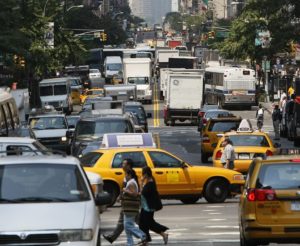 The possibility that rising carbon dioxide levels could eventually result in harmful effects on people's thinking (cognition) is scary. Currently levels are above 400 ppm and rising steadily each year. The Intergovernmental Panel on Climate Change predicts that outdoor CO2 levels could climb to 930 ppm by 2100, which means urban and indoor levels would be even higher.
Studies suggest that at high levels of carbon dioxide our thinking gets worse. A University of Colorado study reports that a growing body of evidence finds that as CO2 levels increase, there are effects on thinking (cognitive functioning), including decision making, planning, and complex strategic thinking. As carbon dioxide levels rise to 945 ppm and higher, the effects are even more significant, especially with mentally demanding tasks.
Think of the air in stuffy conference rooms or offices, which studies show has a negative effect on different aspects of our thought processes. The stuffy air is from higher levels of CO2. What if in the future this is our regular "fresh air", with no possibility of escape? The best case scenario is that we do not allow carbon dioxide levels to get that high by reducing fossil fuel emissions. Starting now.
From Science Daily: Rising carbon dioxide causes more than a climate crisis -- it may directly harm our ability to think
As the 21st century progresses, rising atmospheric carbon dioxide (CO2) concentrations will cause urban and indoor levels of the gas to increase, and that may significantly reduce our basic decision-making ability and complex strategic thinking, according to a new CU Boulder-led study. By the end of the century, people could be exposed to indoor CO2 levels up to 1400 parts per million -- more than three times today's outdoor levels, and well beyond what humans have ever experienced.  ...continue reading "Rising Carbon Dioxide Levels May Harm Our Thought Processes"