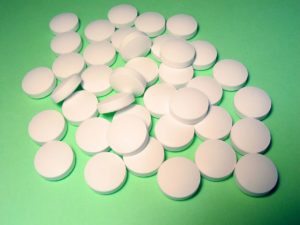 The majority of women experience at least one urinary tract infection (UTI) at some point in their life. The normal treatment is antibiotics, but some researchers have questioned whether this is necessary - because some studies found most cases will simply resolve on their own without antibiotic treatment. Another issue is growing antibiotic resistance in treating UTIs - some women try one antibiotic after another in their UTI treatment due to antibiotic resistance.
Recently a study was conducted in 3 Scandinavian countries that looked specifically at this issue: Can uncomplicated UTIs be simply treated with non-prescription ibuprofen (e.g. Advil) or are antibiotics better? Women with UTIs were randomly assigned to a 3 day course of antibiotics (178 women) or a 3 day course of the pain reliever ibuprofen (181 women). They found that 53% of the ibuprofen group recovered without antibiotics (even though it took about 3 days longer than women who received antibiotics). However, seven cases (3.9%) of pyelonephritis occurred in the ibuprofen group, and none in the antibiotic group. Five of these patients were even hospitalized - but all recovered with antibiotics. Pyelonephritis is a kidney infection (the bacteria of the UTI has traveled to the kidneys).
There were no cases of pyelonephritis in the antibiotic group (they took  pivmecillinam). But even with an initial 3 day course of antibiotics - 11.2% of the antibiotic group needed a second course of antibiotics within 1 month to recover. The researchers main conclusions: since we can't tell who will respond well without antibiotics - therefore everyone should take them for a UTI.
My only question is: why not do this same study testing a course of D-mannose vs antibiotics for UTIs? One study found that non-prescription D-mannose to be as effective as antibiotics in treating recurring UTIs. Anecdotal evidence (from women) is that it works especially well for those caused by E. coli (up to 90% of UTIs). And antibiotic resistance will never happen taking it, because it's not an antibiotic. (Post on a mannose product for UTIs in development).  ...continue reading "Antibiotics Better Than Ibuprofen For UTI Treatment"