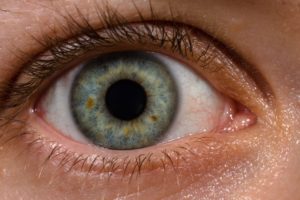 Eating a handful of dried goji berries appears to have health benefits for the eyes - they may prevent or slow down age related macular degeneration (AMD). Goji berries contain high levels of lutein and zeaxanthin. These carotenoids are essential components for eye health, and are associated with a reduced risk of cataract development and AMD.
University of California researchers found that 14 healthy middle-aged adults  eating a handful (28 grams or 1 ounce) of dried goji berries 5 days a week for 90 days increased the density of protective pigments in their eyes (macular pigment optical density or MPOD). This is an optical biomarker for AMD. Their skin carotene scores also increased.
However, the 13 persons taking lutein and zeaxanthin in the form of dietary supplements (6 mg lutein and 4 mg zeaxanthin) did not have these beneficial changes in the eye. Their skin carotene scores also did not increase. These results are similar to many studies finding the same thing - eating actual foods has many health benefits, but not dietary supplements.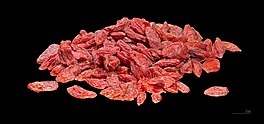 Bottom line: Eat more servings of foods rich in lutein and zeaxanthin.
Foods with high levels of both lutein and zeaxanthin include: dried goji berries, parsley, spinach, kale, collard greens, turnip greens, mustard greens, corn, basil, leeks, egg yolks, pistachios, peas, broccoli. Slightly lower levels are in: lettuce, green and red peppers, carrots, kiwi, grapes, squash, pumpkin, corn tortillas, corn chips, Einkorn wheat, and durum wheat.
Most fruits (tangerines, raspberries, papayas, peaches, oranges, cherries, blueberries) also contain lutein and zeaxanthin, but in smaller amounts.
From Science Daily: Dried goji berries may provide protection against age-related vision loss
Regularly eating a small serving of dried goji berries may help prevent or delay the development of age-related macular degeneration, or AMD, in healthy middle-aged people, according to a small, randomized trial conducted at the University of California, Davis.  ...continue reading "Goji Berries Benefit Eye Health"