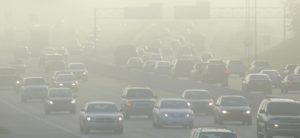 Several recent studies have highlighted the negative effects of air pollution on the brain, specifically from the tiniest particles in polluted air (called PM 2.5). These tiny particles get to the human brain and cause all sorts of damage. Even at levels within government guidelines.
Two studies found that with higher chronic (daily) exposure to PM2.5 air pollution there were structural changes to the brain. Which is negative to brain health, of course.
With chronic exposure to higher levels of  PM2.5 air pollution: one study found greater declines in memory and more Alzheimer's-like brain atrophy in older women in the USA; and the second study found that higher prenatal exposure was associated with a smaller corpus callosum (a part of the brain) later in childhood. Thus structural changes in the brain!
The tiniest particles are 2.5 micrometers or less in diameter, about 1/30th the width of human hair - and referred to as PM2.5. These fine particles are produced by all sorts of combustion, including motor vehicles, power plants, residential wood burning, agricultural burning, some industrial processes, and forest fires. Typically there is much more exposure to PM2.5 in busy urban streets, and less in quiet suburban streets.
Researchers in Barcelona, Spain found that long-term higher prenatal exposure to PM2.5 particulate matter, especially during the last trimester of pregnancy, is associated with a smaller corpus callosum in children between the ages of 8 and 12 years. This is an important finding because a smaller (reduced volume) corpus callosum is found in ADHD (attention deficit hyperactivity disorder), ASD (autism spectrum disorder), and hyperactivity. So here we see a structural change in the brain from air pollution at PM2.5 levels that are considered acceptable (within guidelines) by the European Union!
A report called The State of Global Air/2018 stated that studies show that long-term exposure to PM2.5  particles in the air "is the most consistent and robust predictor" of death from heart disease and stroke, lung cancer, and respiratory illnesses. And then there are nitrogen oxides and ozone, which are also linked to death. There are also nanoparticles (e.g., from friction of tires being used) that penetrate deep into the human body.
A 2018 The Guardian article called air pollution "the new tobacco". And that it's time to tackle this epidemic. Yup. Unfortunately, current air pollution standards are being relaxed in all sorts of ways under the current U.S. administration. Beware!
First study. Excerpts from Medical Xpress: Exposure to PM 2.5 pollution linked to brain atrophy, memory decline  ...continue reading "Air Pollution and the Brain, Part 1"