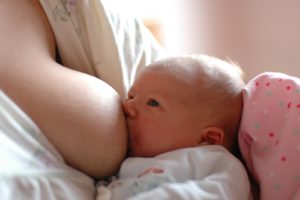 There are a lot of health reasons why breast milk is better for a baby then formula, and now another reason can be added to the list. A recent study found that specific immune cells (regulatory T cells) expand more in the first three weeks of life in breastfed human babies - nearly twice as abundant as in formula fed babies.
These cells control the baby's immune response against maternal cells transferred with breast milk and help reduce inflammation. In other words, breast milk is good for the baby's immune system development.
The University of Birmingham researchers also found that specific beneficial bacteria, called Veillonella and Gemella, which support the function of regulatory T cells, are more abundant in the gut of breastfed babies.
Breast milk is considered the best food for infants. It contains a range of complex nutrients, antimicrobial proteins, bacteria, human milk oligosaccharides, and hormones from the mother. Thus it isn't surprising that whether the baby receives breast milk or formula influences the gut microbiome (community of microbes in the gut).
From Science Daily: New insight into why breastfed babies have improved immune systems
Research led by the University of Birmingham and Birmingham Women's and Children's NHS Foundation Trust has revealed new insight into the biological mechanisms of the long-term positive health effects of breastfeeding in preventing disorders of the immune system in later life.  ...continue reading "Beneficial Effect of Breast Milk On the Baby's Immune System"