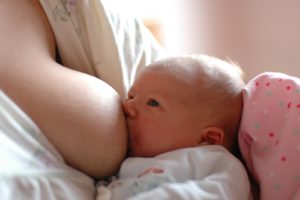 Breast milk is beneficial a number of ways. For example, it provides some micronutrients to the baby that formula doesn't provide. It also transmits hundreds of microbial species from the mother to the baby - thus important for the baby's microbiome.
Additionally, recent research found that breastfed babies are 33% less likely to die in the first year of life. This is a huge difference! The researchers looked at data for nearly 10 million infants born in 2016 to 2018, and who were then followed for 1 year after birth.
Studies also find that breastfeeding protects against sudden infant death syndrome and necrotizing enterocolitis in preterm infants.
Bottom line: Breastfeeding should be supported and encouraged. As the study researchers point out: "breastfeeding confers a protective benefit during the first year of life".
From Science Daily: Breastfeeding is associated with a 33% reduction in first-year post-perinatal infant mortality
Among nearly 10 million US infants born between 2016 and 2018, breastfed babies were 33% less likely to die during the post-perinatal period (day 7-364) than infants who were not breastfed, reports a new study in the American Journal of Preventive Medicine, published by Elsevier. The findings build on previous US research with smaller datasets, which documented the association between the initiation of breastfeeding and the reduction of post-perinatal infant mortality by a range of 19% to 26%. ...continue reading "Large Study Finds That Breastfed Babies Less Likely To Die In Their First Year"