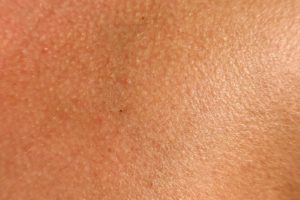 Recently I was asked about the human skin microbiome (skin microbial communities) and whether the things we do frequently (e.g. use soap and shampoo, go swimming in a pool) has an effect on our skin microbiome. As I've posted earlier, human skin microbes include bacteria, fungi, viruses, and  archaea. Most of these microbes are harmless or beneficial, but when the microbial communities are out of whack (dysbiosis), then there are diseases or skin disorders (such as acne, psoriasis, and eczema). The human skin acts as a physical barrier, a first line of defense, to pathogens (microbes that can cause disease). Studies have found that using soaps, lotions, make-up, our diet and lifestyle all have some effect on skin microbial communities. Even living with someone results in some microbial exchange. Spending more time outdoors, owning pets, and drinking less alcohol (or none) are all associated with higher levels of microbial skin diversity.
But then I came across a small study from 2016 (National Human Genome Research Institute, NIH, Bethesda, MD) in Cell - Temporal Stability of the Human Skin Microbiome. The researchers found that skin microbial communities are "surprisingly stable over time" (the study lasted 2 years), even though the humans were typically exposed to things daily that could disrupt their skin microbial communities (other people, clothing, the environments). But some individuals had more stable communities than others, and stability varied from site to site (the feet had the least stable microbial communities). Also, they found that bacterial, fungal, and viral communities not only show a strong preference for inhabiting specific skin sites, but also serve as "microbial fingerprints" that are highly unique to individuals. They did point out that "immunosuppression, illness, or the occurrence of disease have been shown to cause major shifts in skin communities".
Then there is a recent 2018 review article - but behind a paywall even though the researchers worked for NIH, thus paid for with our tax dollars (!!).They also discussed all the microbes living on the skin, and how when the microbial communities are out of whack (dysbiosis), then there is disease (whether acne, or eczema, etc.). Microbes that are beneficial in healthy people can become pathogenic, e.g. when the person has a disease. It also pointed out that only with modern genetic sequencing methods (rather than old style "cultures") can one really see what makes up the skin microbial communities. And that using these methods we can compare the skin microbes of healthy persons with those with a disease. And yes, there then is also the possibility of finding protective, beneficial microorganisms which are in healthy persons, but absent or under-represented in those with a disease. Sounds  like probiotics for the skin! ...continue reading "Microbes of the Skin"