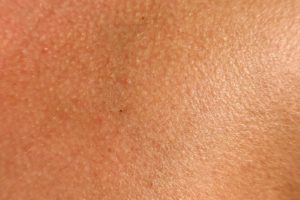 Well, the results of new research about skin with psoriasis compared to healthy skin isn't surprising. The research found that skin with psoriasis has a distinct microbiome (community of bacteria, viruses, fungi) - one that is different from that of healthy persons.
A main finding was that the types of bacteria were lower (less diversity) on the psoriatic skin. Greater diversity of bacteria is considered good - a sign of health. Levels of Staphylococcus were higher in the psoriatic skin, but healthy skin had higher levels of Cutibacterium and Kocuria.
Oher research also supports the view that microbes are somehow involved with the development of psoriasis. The hope is that someday treatment could be just taking a probiotic pill or applying certain microbes to the skin, perhaps in a lotion. Wouldn't that be great?
Excerpts from Medscape: Psoriasis and Psoriatic Arthritis Show Distinctive Skin Microbiomes
The bacterial diversity in lesional and nonlesional skin of patients with psoriasis (PsO) with or without psoriatic arthritis (PsA) was significantly lower than that of healthy control skin, based on data from 74 individuals. ...continue reading "Psoriasis Has A Microbiome"