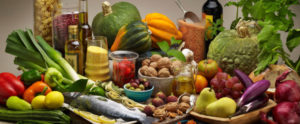 Another piece of research that shows that eating more fish and less meat plus the Mediterranean diet is beneficial - this time it's linked to larger brain volume and "delaying age-related atrophy of the brain". Perhaps some other beneficial health-related behaviors are also occurring in these groups, but the link with better brain health and more fish, less meat, and Mediterranean diet is consistently occurring in research. From Medscape:
Mediterranean Diet Linked to Larger Brain Volume
Adherence to the Mediterranean diet (MeDi) may prevent brain atrophy in old age, new research suggests.A large cross-sectional study by investigators at Columbia University in New York linked adherence to the MeDI to larger brain volume in an elderly population, suggesting this type of diet has the potential to prevent brain atrophy and, by extension, preserve cognition in the elderly.
"Our study suggests that adhering to MeDi may prevent cognitive decline or AD [Alzheimer's disease] by maintaining the brain structure or delaying aging-related atrophy," said study investigator Yian Gu, PhD. Previous research has linked the MeDi to a reduced risk for AD and slower rates of cognitive decline in the elderly. "
The aim of the current study was to investigate the association between adherence to the MeDi and structural MRI-based measures of both brain volume and cortical thickness among elderly individuals participating in the Washington Heights-Inwood Columbia Aging Project (WHICAP).The study cohort included 674 multiethnic Medicare beneficiaries aged 65 years or older living in an uptown area of New York City andfish who had no signs of dementia.
All participants underwent high-resolution structural MRI as well as assessment of MeDi adherence based on a 61-item food-frequency questionnaire....A higher score (ranging from 0 to 9) indicated better MeDi adherence. The investigators assessed intracranial volume (ICV), total brain volume (TBV), total gray matter volume (TGMV), total white matter volume (TWMV), and cortical thickness (CT).... the investigators found that those with higher MeDi adherence scores (5 to 9) had larger TBV , TGMV, and TWMV compared with those with lower MeDI scores (0 to 4).
Among the 9 food components of MeDi, higher fish intake was associated with larger TGMV, and lower meat intake was associated with both larger TBV and TGMV . Higher fish intake was also associated with higher CT .
Participants who adhered more to a MeDI had larger brain volumes both in gray matter and white matter, said Dr Gu. She also noted that each additional higher MeDi adherence and total brain volume is equivalent to more than 1 year of aging. Dr Gu noted that most of the association was driven by higher intake of fish and lower intake of meat. Potential mechanisms, she said, include anti-inflammatory and/or antioxidative effects, as well as potential slowing of the accumulation of β-amyloid or tau.